Calendar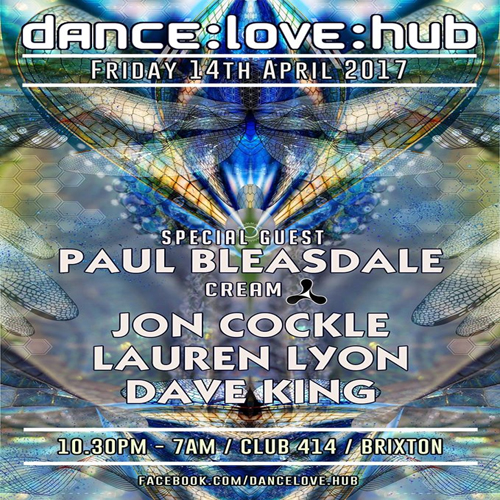 Dance:Love:Hub
14 April, 2017 // 11:00 PM until 7:00 AM
Psychedelic Trance, Trance, Techno
Cost - £10
Tickets
Dance
Paul Bleasdale
Lauren Lyon
DJ Jon Cockle
Dave King
.
Since 2012, dance:love:hub has been carving a distinctive niche in London's underground music scene. It showcases deeper and progressive forms of techno and underground trance, programmed to blend seamlessly with progressive psytrance and uplifting styles of full-on psy. Renowned for its knowledgeable crowd of friendly and enthusiastic regulars, its growing popularity has not intruded on a warm, intimate vibe, which is only enhanced by the stunning bespoke and hand-made décor. Enduring relationships with a host of highly, regarded underground producers and DJs, dance:love:hub consistently delivers high quality music and an unparalleled atmosphere of togetherness and enjoyment.
We are celebrating our resident DJ Jon Cockle's 30th Birthday and he's chosen the line-up and set times for this party. Everryone will play extended sets for 2 hours or more.
Trance & Psytrance
Line-up:
Paul Bleasdale (Cream) *Special Guest 2.5 Hr set*
https://www.facebook.com/paul.bleasdale2
Lauren Lyon - DJ/Producer (resident at Dancelovehub) *2 hours
https://soundcloud.com/laurenlyon01
DJ Jon Cockle *Extended Birthday set (Resident) *Extended set
https://soundcloud.com/dj-jon-cockle
Dave King *2 hour set
https://soundcloud.com/djdavek
Page Dancelovehub - please check out our reviews of our previous parties on our page and subscibe to our events.
Enrtry 10 pounds before midnight / 12 thereafter
Please message Dancelovehub page for advance tickets for 10 pounds.
Photo ID required for entry / Over 18's only.
Club 414, 414, Coldharbour Lane, Brixton
Roof terrance of smokers / 1st floor lounge / Coakroom 1 pound.
Click
---
Email
info@club414.org
---
Telephone / Text
02079249322
---
Facebook Event Link
Click
---