Calendar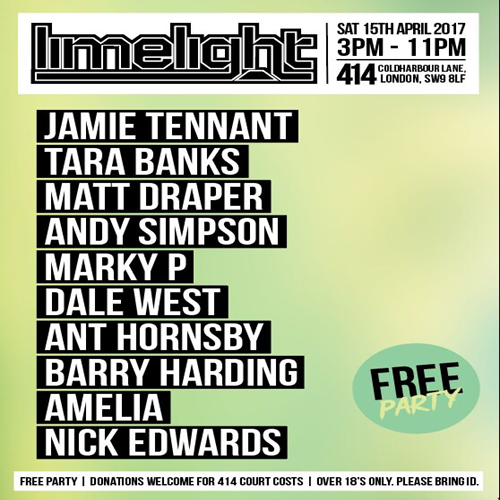 Lime Light - The Easter Ball Day Party
15 April, 2017 // 3:00 PM until 11:00 PM
Hard Dance, Hard House, Hard Trance
Cost - FREE! Donations welcome
Tickets
Lime Light - The Easter Ball Day Party Ticket
Jamie Tennant
Tara Banks
Dale West
Matt Draper
Marky
Andy Simpson
Barry Harding*
Ant Hornsby
Nick Edwards
Amelia
Limelight's first party of 2017 is now aproching fast and what an excellent weekend of choice to party. Easter weekend at the club 414 with a host of great DJ's.
After a really successful 2016 were pumped for another great year.
We started putting on day party's in 2015 and are very happy with where we're at, thanks to some great support from the hard house faithful.
So onto the lineup details
Firstly we would like to welcome one of the current Hard Trance greats Matt Draper. Matt has been busy making some belting tracks lately and is now a regular DJ on the circuit, we can't wait to have him play his debut set for Limelight.
Now guys we really excited to introduce Tara Banks as Limelight's new resident.
Tara will now be joining us for many more future events
For this event Tara and Dale will be doing a Banks vs West production battle set.
Also we have special guest Andy Simpson who will be joining Barry Harding for their first ever back 2 back set!
It's great to have Andy back once again especially after the quality of his set the last time he played for us at Limelight.
Also we have another special guest Marky P who we will be welcoming back for the second time now. Marky has been making great waves in the scene lately and is definitely someone who should be getting booked more often. So we are pleased to have him back.
And now we have the quality Nick Edwards who will be back to play again, this time he will be joined by limelight co host Ant Hornsby and they will be warming things up for us this time, get there early guys.
Plus not forgetting Jamie Tennant who is always top class whatever time he plays.
Also we have Amelia coming to rock 414 again.
****************************************
*Jamie Tennant*
*Tara Banks b2b
Dale West (Banks Vs West Production Battle)*
*Matt Draper*
*Marky P*
*Andy Simpson b2b
Barry Harding*
*Ant Hornsby b2b
Nick Edwards*
*Amelia*
****************************************
Club 414 –
414 Coldharbour Lane, Brixton, SW9, 8LF. London, UK
UV Decor
Lights and Laser Show
Full on sound system
Friendly Security
Over 18 Only
(Open Roof terrace for those who wish to smoke)
Please note that excessive noise will be not tolerated outdoors
Please respect the neighbourhood, Thank you for your co-operation 🙂
HOW TO GET THERE ::
Tube = Brixton (Victoria Line) 1 minute walk
Rail = Brixton (Mainline station) 2 minutes walk
Daytime buses : 2,3,35,37,45,59,109,118,133,159,196,250,322,333,345,355,415,432,P4,P5
Night buses = N2,N3,N35,37,N133,N159,250,689,690
Directions: Come out of Brixton tube station and turn left. Walk 100 yards till you see KFC on your left. Turn left and walk 100 yards. You have reached your destination on the left.
Click
---
Email
info@club414.org
---
Telephone / Text
02079249322
---
Facebook Event Link
Click
---