Calendar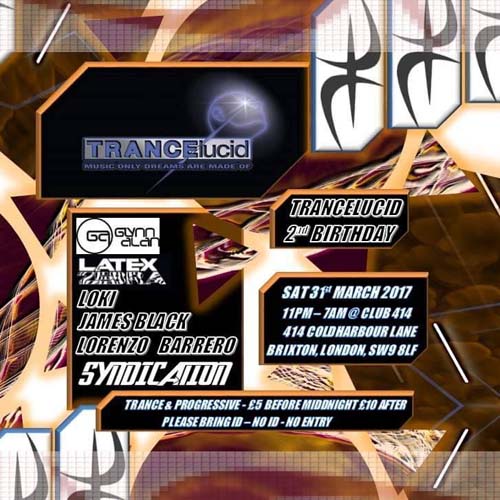 TRANCElucid 2nd Birthday
31 March, 2017 // 11:00 PM until 7:00 AM
Trance
Cost - £5b412 £10 after.
Tickets
TRANCElucid 2nd Birthday Ticket
GLYNN ALAN
LATEX ZEBRA
LOKI
JAMES BLACK
LORENZO BARRERO
SYNDICATION
TRANCElucid once again returns for another quality night of music, played from our great DJ's who are chosen to get you dancing on the dance floor.
We would like to say a massive thank you to all of you who attended our recently passed event last month and our event in January. That event, we felt was one of our best parties we have done, in terms of the music and vibe on the dance floor.
For our next event we have another BIG party coming up, as we bring you here our 2nd Birthday on Friday 31st March...we can't actually believe we are almost 2 already, but the truth of the matter is that it is approaching.
We are absolutely ecstatic and excited to be having and headlining our 2nd Birthday a DJ who we have been following for quite some time, in terms of his Productions, whether they are Original tracks or Remixes of his they have always been liked from us. Releases wise (Original tracks and Remixes) he has featured on top Trance label, such as, Titan Audio, Discover White Label, Tangled Audio, Defcon Recordings, Flux Delax, Discover Digital to name a few. He is also Co-owner/ founder & A&R of a Label which he is in the process of starting up now called Yanada Recordings. Gig wise he has played at some of the UK's top Trance brands, such as, Digital Society, Trancecoda and Godskitchen (''Clash Of The Gods'') to name a few...Ladies and Gentleman, our headliner for our 2nd Birthday is GLYNN ALAN.
There is also a return for a regular at Club 414 and Latex Zebra, who runs Alumni and Brixton Trance Underworld there. He has been busy in the studio recently, with two Original tracks done with Luke Warner - the first one called 'Mind Shift' got released quite recently on Tangled Audio. Only and quite recently he has completed a new Original with Trance duo Curtis & Craig.
We also welcome back Loki for another spin at TRANCElucid. He last played at one of our parties towards the end of last year and also played at our 1st Birthday event last March and in 2016. Is a resident DJ at London's Planet Angel parties. You cn expect to hear some tough, driving Hard Uplifting Trance from him at this event.
Our final guest DJ is James Black, who is a Brighton based DJ and who shll be making his first appearance at one of our events. James runs an event in Brighton called 'Tekbeat' and also does a monthly 'Tekbeat' podcast, which features the best in Progressive, Techno and Trance.
Joining them shall be TRANCElucid's main man behind this event and Lorenzo Barrero and Resident DJ Syndication.
We look forward to seeing you on Friday 31st March.
LINE UP:
GLYNN ALAN
Soundcloud:
https://m.soundcloud.com/glynn-alan
DJ Page: https://www.facebook.com/glynnalanmusic/
Beatport: https://www.beatport.com/artist/glynn-alan/197037
LATEX ZEBRA
DJ Page: https://www.facebook.com/Latex-Zebra-497567677014935/?fref=ts
Brixton Trance Underworld Page:
https://www.facebook.com/BTUparty/
Hearthis: www.hearthis.at/latexzebra
LOKI
DJ Page: https://www.facebook.com/Loki.DJ.Producer/?fref=ts
Soundcloud:
https://soundcloud.com/terminal-trax
JAMES BLACK
Tekbeat Podcast Page:
www.facebook.com/tekbeat
Soundcloud: www.soundcould.com/James-black
Mixcloud: www.mixcloud.com/mrjamesblack
LORENZO BARRERO
TRANCElucid Group Page:
https://www.facebook.com/TRANCElucid-1564805487104512/
Mixcloud:
https://www.mixcloud.com/lorenzobarrero/followers/
SYNDICATION (TRANCElucid Resident)
Soundcloud: https://soundcloud.com/syndication
DJ Page: https://www.facebook.com/syndicationmusic/?fref=ts&ref=br_tf
EVENT INFO:
TRANCElucid 2nd Birthday
Friday 31st March 2017
23:00 - 08:00
£5 before midnight, £10 after.
Trance & Progressive
PLEASE BRING PHOTO ID / NO ID NO ENTRY
Open Roof terrace for those who wish to smoke.
Club 414
414 Coldharbour Lane,
Brixton,
London,
SW9 8LF
www.club414.org
HOW TO GET THERE =
Tube = Brixton
(Victoria Line - 24 hours)
Rail = Brixton Mainline station
Daytime buses = 2, 3, 35, 37, 45, 59, 109, 118, 133, 159, 196, 250, 322, 333, 345, 355, 415, 432, P4, P5
Night buses = N2, N3, N35, 37, N133, N159, 250, 345, 689, 690
Directions: Come out of Brixton tube station and turn left. Walk 100 yards till you see KFC on your left. Turn left and walk 100 yards. You have reached your destination on the left
Click
---
Email
info@club414.org
---
Telephone / Text
02079249322
---
Facebook Event Link
Click
---