Calendar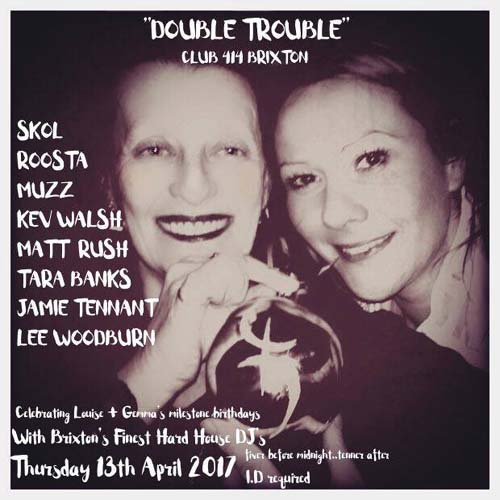 'Double Trouble' Milestone Birthday Celebrations
13 April, 2017 // 11:00 PM until 7:00 AM
Bouncy House, Hard Dance, Hard House, Hard Trance
Cost - £5b412 £10 after.
Tickets
'Double Trouble' Milestone Birthday Celebrations Ticket
Skol
Roosta
Muzz
Kev Walsh
Tara Banks
Jamie Tennant
Lee Woodburn
'Double Trouble' Milestone Birthday Celebrations
We sure hope you will all come and celebrate with us.
There will be Birthday Punch and little cakes, Fantastic Music from Great DJ's…hopefully even a Special Guest.
Milestone Birthdays for true…between us we mark up a good few years…A Triple Figure……SO…we shall party in the true traditional 414 style….last one to leave tell Steve to close the door behind you please…..
ROOM 1
DJ's
Skol
https://www.facebook.com/skol.kelly?fref=ts
Roosta
https://www.facebook.com/DjRoostaUK/?fref=ts
Muzz
https://www.facebook.com/muzz3?fref=ts
Kev Walsh
https://www.facebook.com/profile.php?id=544473360&fref=ts
Tara Banks
https://www.facebook.com/tlbanksy?fref=ts
Jamie Tennant
https://www.facebook.com/jamieprimetimetennant?fref=ts
Lee Woodburn
https://www.facebook.com/lee.woodburn.1?fref=ts
ROOM 2 (Chill Out Lounge)
A beautiful place to sit down and chill
And chat with your friends
* UV Decor
* Lights and Lazer Show
* Full on sound system
* Friendly Security
* Over 18 Only
(Open Roof terrace for those who wish to smoke)
Please note that excessive noise will be not tolerated outdoors
Please respect the neighbourhood, Thank you for your co-operation
Date:13/04/17
Time: 23:00PM – 08:00AM or Later 😉
Entry £5 B4 12 – £10 after
Please Bring Photo ID / No ID No ENTRY
London's No.1 Hard House Night
Club 414, 414 Coldharbour Lane, Brixton, SW9, 8LF. London, UK
Please email info@club414.org
HOW TO GET THERE ::
Tube = Brixton (Victoria Line) 1 minute walk
Rail = Brixton (Mainline station) 2 minutes walk
Daytime buses : 2,3,35,37,45,59,109,118,133,159,196,250,322,333,345,355,415,432,P4,P5
Night buses = N2,N3,N35,37,N133,N159,250,689,690
Directions: Come out of Brixton tube station and turn left. Walk 100 yards till you see KFC on your left. Turn left and walk 100 yards. You have reached your destination on the left.
Click
---
Email
info@club414.org
---
Telephone / Text
02079249322
---
Facebook Event Link
Click
---