Calendar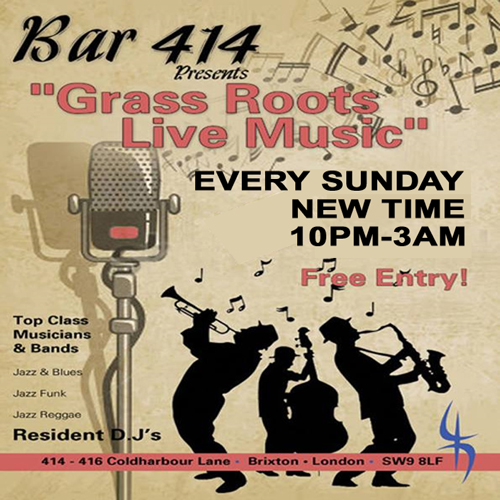 Grass Roots Live Music Sundays
25 June, 2017 // 10:00 PM until 3:00 AM
Funk, Jazz, R n' B, Reggae, Other
Cost - FREE! (Donations welcome)
Tickets
Grass Roots Live Music Sundays Ticket
Patrick Anthony (Trumpet)
Lance Rose (Bass)
Maurice Brown (Guitar)
Bukky Leo, Bammi Rose, Sara Tobias ( Sax)
Gary Williams & Saleem (Drums)
Plus vocalist George Kelly
With a new opening time 10pm till 3am Bar 414 will continue in the same vein every Sunday providing for you a night of pure excellence with the Grass Roots Band playing Jazz, Ska and Reggae till the early hours.
Bar414/Club414 in the past has played host to promotions like "Jazzmo'thology" who introduced some of the capitals finest Jazz, Soul, Blues & Ska artists to the venue such as Paul Lunga, Carl Mcintosh of Loose Ends, The Omar Puente trio, Tony Remy, Julie Dexter, Imaani, Nathaniel Facey, Linda Murlel, DaPaul London, Noreen Stewart, Sirael, Jimmy Lindsay, Daniel Louis, Ray Carless, The Soca Divettes and many more backed by The Westly Joseph Collective Band.
Club 414/Bar 414 has been part of Brixton's music and creative industry for over 30 years situated at 414 Coldhabour lane, Brixton, sw9, 8lf.
ROOM 1
Stage, Dance floor & Bar
Gras Roots Band members: Patrick Anthony (Trumpet) Lance Rose (Bass) Maurice Brown (Guitar) Bukky Leo, Bammi Rose, Sara Tobias ( Sax) Gary Williams & Saleem (Drums) Plus vocalist George Kelly in attendance.
ROOM 2 (Chill Out Lounge/cafe)
A beautiful place to sit down and chill, chat with your friends or eat some food.
FOOD: Curry Goat & White Rice, Chicken & White Rice, Calaloo, Potato salad, Coleslaw, Salad, Prawns & more,
ROOF TERRACE.
Free on the Door, Donations for the band welcome..
https://www.facebook.com/pages/BAR-414Brixton/309311687896
Click
---
Email
info@club414.org
---
Telephone / Text
02079249322
---
Facebook Event Link
Click
---