Calendar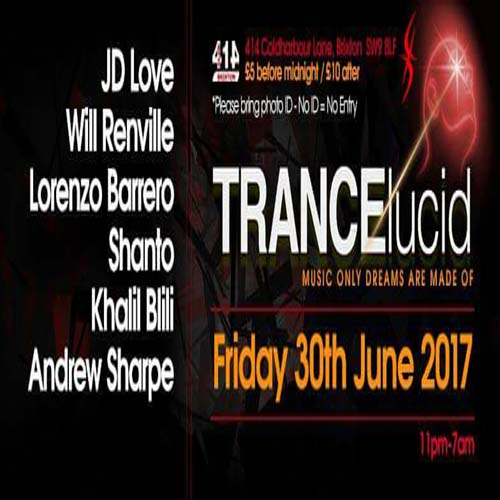 Trancelucid - June Party
30 June, 2017 // 11:00 PM until 7:00 AM
Trance
Cost - £5b412 £10 after.
Tickets
Trancelucid - June Party Ticket
JD LOVE
WILL RENVILLE
LORENZO BARRERO
SHANTO
KHALIL BLILI
ANDREW SHARPE
Hi everyone and welcome to our June Trancelucid event, where we shall be putting on another fantastic party, on Friday 30th June, with our DJ's for this month playing the finest in Progressive and Trance.
A big thank you to everyone who came to our last party, last month. There was a great vibe within the club and on the dance floor. As always the music was at the highest standards from all of our DJ's who played.
For our next event this month we welcome back to play again at Trancelucid JD Love, who is a well known face within the Trance scene and known to a wide audience within London's Trance family. He is Promoter of a Trance party called Reality and has featured on line ups at some of London's finest events, such as Trance Sanctuary, Babies Events and Elevation Audio to name a few. We can't wait to hear what he has in store and to play for us at this event.
There is also a well deserved return to play at another of our events for Will Renville, who has come on alot since his last set for us. He has a monthly Radio slot on the one and only and #1 Internet music station Afterhours.fm, which his show is called 'Chaos Theory'. His sound and different genres he plays ranges from Progressive, Techno, Trance and some Psy.
We welcome Shanto for a debut set at one of our events. He impressed us when we catched him playing a Psy Trance set at another event at our venue (Club 414) last year and for this event you will be able to catch him playing another pumping and energetic Psy Trance set.
Khalil Blili makes another return to play at another one of our events. He is another DJ who is pretty versatile in what he plays out and recently has played other genres away from Trance.
Finally and our final guest DJ on this line up is Andrew Sharpe, who is a Birmingham based Progressive DJ and who has played at our events a few times.
Joining them shall be the main guy behind Trancelucid and Promoter/Resident DJ Lorenzo Barrero.
LINE UP:
JD LOVE
DJ Page: https://www.facebook.com/JDLoveMusic/
Mixcloud - https://www.mixcloud.com/jd-love/
Soundcloud - https://soundcloud.com/jdlove
WILL RENVILLE
Mixcloud: https://www.mixcloud.com/djwillrenville/followers/
Soundcloud: www.soundcloud.com/djwillrenville
DJ Page: https://www.facebook.com/djwillrenville/?fref=ts
LORENZO BARRERO
Mixcloud: https://www.mixcloud.com/lorenzobarrero/
Trancelucid Page: https://www.facebook.com/TRANCElucid-1564805487104512/?fref=ts
SHANTO
https://www.facebook.com/sayed.shaan
KHALIL BLILI
Mixcloud: https://www.mixcloud.com/khalilblili/
ANDREW SHARPE
Soundcloud: https://soundcloud.com/andrewsharpe
EVENT INFO:
TRANCElucid
Friday 30th June 2017
11pm - 7am
£5 before midnight, £10 after.
Progressive & Trance
PLEASE BRING PHOTO ID / NO ID NO ENTRY
Open Roof terrace for those who wish to smoke.
Club 414
414 Coldharbour Lane,
Brixton,
London,
SW9 8LF
www.club414.org
HOW TO GET THERE =
Tube = Brixton
(Victoria Line - 24 hours)
Rail = Brixton Mainline station
Daytime buses = 2, 3, 35, 37, 45, 59, 109, 118, 133, 159, 196, 250, 322, 333, 345, 355, 415, 432, P4, P5
Night buses = N2, N3, N35, 37, N133, N159, 250, 345, 689, 690
Directions: Come out of Brixton tube station and turn left. Walk 100 yards till you see KFC on your left. Turn left and walk 100 yards. You have reached your destination on the left.
Click
---
Email
info@club414.org
---
Telephone / Text
02079249322
---
Facebook Event Link
Click
---