Calendar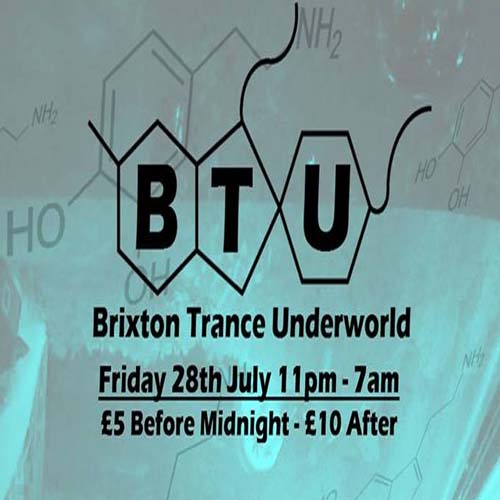 Brixton Trance Underworld
28 July, 2017 // 11:00 PM until 7:00 AM
Trance
Cost - £5b412 £10 after.
Tickets
Brixton Trance Underworld Ticket
Adam Symbiosis b2b Craig Gunn
Robin Fisher aka Fisha
Matt Draper
Her Indoors
Matt Church b2b Latex Zebra
Summer party season is in full flow and at Brixton Trance Underworld we're ready for ours.
Hawaian shirts are optional, having a good time compulsory.
We've got a great line up of guests for this party and musically, you're not going to want to miss a minute.
Our special guests on the night are Lost Dawn Promoters and Residents Craig Gunn and Adam Symbiosis.
Lost Dawn is a party with some pedigree and neither are slouches in the DJing department. Both have graced the line ups of the biggest parties in town and one is a former Zoology resident.
For BTU they'll be giving us a special 2 hour B2B of all things good and Trancey!
Our next special guest is Fisha. Eagle eyed observers will recognise him as one of the winners of the Peach competition. Having checked out his set I can confirm this was well deserved.
Also part of the Trancelation promotion team. Fisha also recently graced the decks at the Echo Boat Party (more on that soon).
Matt Draper is our next guest. Matt has delivered some massive Hard Trance productions but is known behind the decks for his quality sets of Trance and Hard Dance. Not sure what he has planned exactly for BTU but we're guessing it may have a few classics in there.
Our final guests on the night have possibly the finest DJ name in history. Her Indoors! Brilliant. These lovely ladies of Psy Trance have quickly made a name for themselves and they will be closing BTU with a set of wonderfully wobbly psychedelic trance!
We're missing resident B.S.E for this one as he is a unicorn herding holiday.
Matt Church and Latex Zebra will be starting the night with a 2 hour set encompassing prog and summer Trance vibes.
£5 before Midnight
£10 After 12
Adam Symbiosis b2b Craig Gunn
Robin Fisher aka Fisha
Matt Draper
Her Indoors
Matt Church b2b Latex Zebra
Click
---
Email
info@club414.org
---
Telephone / Text
02079249322
---
Facebook Event Link
Click
---