Calendar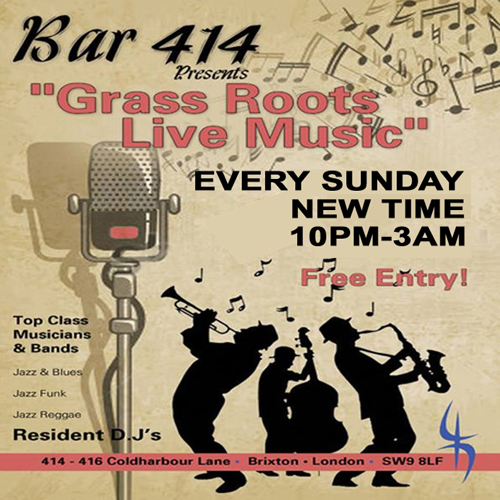 Grass Roots Live Music Sundays
30 July, 2017 // 10:00 PM until 3:00 AM
Jazz, Reggae, Soul, Other
Cost - FREE! (Donations welcome)
Tickets
Grass Roots Live Music Sundays Ticket
Patrick Anthony (Trumpet)
Lance Rose (Bass)
Maurice Brown (Guitar)
Bukky Leo, Bammi Rose, Sara Tobias ( Sax)
Gary Williams & Saleem (Drums)
Plus vocalist George Kelly
Club 414/Bar 414 has been part of Brixton's music and creative industry for over 30 years situated at 414 Coldhabour lane, Brixton, sw9, 8lf.
ROOM 1
Stage, Dance floor & Bar
Gras Roots Band members: Patrick Anthony (Trumpet) Lance Rose (Bass) Maurice Brown (Guitar) Bukky Leo, Bammi Rose, Sara Tobias ( Sax) Gary Williams & Saleem (Drums) Plus vocalist George Kelly in attendance.
ROOM 2 (Chill Out Lounge/cafe)
A beautiful place to sit down and chill, chat with your friends or eat some food.
FOOD: Curry Goat & White Rice, Chicken & White Rice, Calaloo, Potato salad, Coleslaw, Salad, Prawns & more,
ROOF TERRACE.
Free on the Door, Donations for the band welcome..
https://www.facebook.com/pages/BAR-414Brixton/309311687896
Click
---
Email
info@club414.org
---
Telephone / Text
02079249322
---
Facebook Event Link
Click
---