Calendar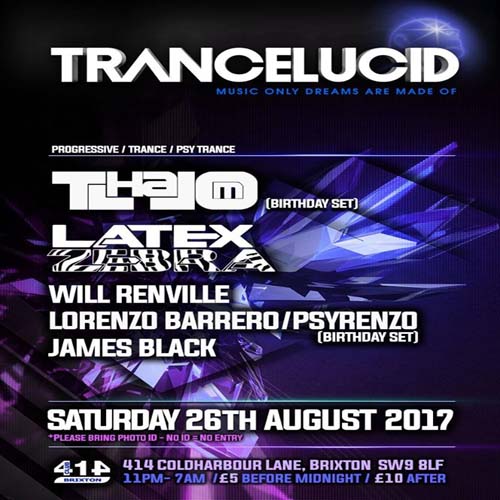 TRANCElucid
26 August, 2017 // 11:00 PM until 7:00 AM
Psychedelic Trance, Trance
Cost - £5b412 £10 after.
Tickets
TRANCElucid Ticket
THALLOM (Birthday Set)
WILL RENVILLE
LATEX ZEBRA
JAMES BLACK
LORENZO BARRERO
Hi party people and welcome to our August Trancelucid event, which will take place at Club 414 on Saturday 26th August.
We look forward to seeing you join us for another quality night of Trance music, spun from our favourite DJ's and who shall be playing the very best in Progressive Trance, Trance and Psy Trance.
Please share and invite your music loving friends to this party, a party that will be a memorable one and one to remember.
Many thanks.
See you on the dance floor.
LINE UP:
THALLOM (Birthday Set)
Soundcloud:
https://soundcloud.com/thallom
Expo Records:
https://www.facebook.com/ExpoRecords/
DJ page:
https://www.facebook.com/ThallOmUK/
Website:
http://www.thallom.com
WILL RENVILLE
Mixcloud:
https://www.mixcloud.com/djwillrenville/followers/
Soundcloud:
www.soundcloud.com/djwillrenville
DJ Page:
https://www.facebook.com/djwillrenville/?fref=ts
LATEX ZEBRA
DJ Page:
https://www.facebook.com/Latex-Zebra-497567677014935/?fref=ts
Brixton Trance Underworld Page:
https://www.facebook.com/BTUparty/
Hearthis: www.hearthis.at/latexzebra
JAMES BLACK
Tekbeat Podcast Page:
www.facebook.com/tekbeat
Soundcloud:
www.soundcould.com/James-black
Mixcloud:
www.mixcloud.com/mrjamesblack
LORENZO BARRERO
Mixcloud:
https://www.mixcloud.com/lorenzobarrero/
Trancelucid
https://www.facebook.com/TRANCElucid-1564805487104512/
EVENT INFO:
TRANCElucid
Saturday 26th August 2017
11pm - 7am
£5 before midnight, £10 after.
Progressive / Trance / Psy Trance
PLEASE BRING PHOTO ID / NO ID NO ENTRY
Open Roof terrace for those who wish to smoke.
Club 414
414 Coldharbour Lane,
Brixton,
London,
SW9 8LF
www.club414.org
HOW TO GET THERE =
Tube = Brixton
(Victoria Line - 24 hours)
Rail = Brixton Mainline station
Daytime buses = 2, 3, 35, 37, 45, 59, 109, 118, 133, 159, 196, 250, 322, 333, 345, 355, 415, 432, P4, P5
Night buses = N2, N3, N35, 37, N133, N159, 250, 345, 689, 690
Directions: Come out of Brixton tube station and turn left. Walk 100 yards till you see KFC on your left. Turn left and walk 100 yards. You have reached your destination on the left.
ThallOM
Check Out My Web Site ! 🙂 http://www.thallom.com Brazil born, as a child ThallOm discovered his love for music when he played trumpet in the school band. He felt the music and soulful sounds, which
soundcloud.com
Chat Conversation End
Type a message...
Click
---
Email
info@club414.org
---
Telephone / Text
02079249322
---
Facebook Event Link
Click
---