Calendar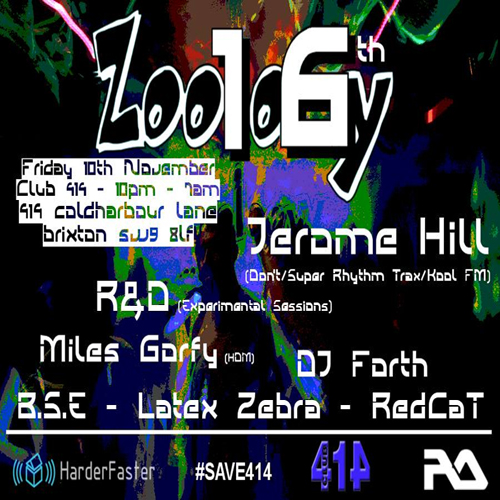 Zoology 16th Birthday
10 November, 2017 // 11:00 PM until 7:00 AM
Hard Dance, Trance, Techno
Cost - £5b412 £10 after.
Tickets
Zoology 16th Birthday Ticket
Jerome Hilll
R&D
Miles Gorfy
DJ Forth
RedCaT
B.S.E
Latex Zebra
With the ability to do a really catchy title like Zoo1o6y it was no wonder it took little convincing to do a 16th Birthday Party.
November 10th, a Friday as well, original Zoology style, we're back in business.
As with our reunion last year we've roped in a couple of the old residents, we still have some saved in case we do Zoo1og7 next year.
On top of that we have two guests (well technically 3) to add to the music wonder.
As always the music will progress and we'll be starting on a House and Techno vibe before pushing into Trancier sounds!
Our special guest this year is Jerome Hill. Jerome has been a name on the scene since the early 90's and has a passion for multiple styles of music including Hip Hop, Acid House, UK Bleep, Breakbeat and Techno.
He'd been a DJ that the Zoologist's had long wanted to check out and when they saw him earlier this year, there was no other choice for the guest for Zoology. Jerome epitomises the Party Techno vibe that Zoology pushed for years. This is combined with deck skills that just have to be seen (and heard) to be believed. No really, any explanation won't do it justice. It's just brilliant!.
As expected a DJ of Jerome's calibre plays at some of the finest Techno events around all over the World. It is an honour and pleasure to have him at Zoology. You do not want to miss this set!
Our next guests are R&D, a collaboration between DJ's, Alex Robinson and Ben Davenport. A Trance and Techno duo who are taking the London by storm, having already played in numerous clubs across the capital, including the world famous Ministry of Sound, they're currently delivering a monthly dose of experimental House and Techno vibes at London's legendary bar Gigalum with Experimental Sessions.
These guys will be leaning on their Techno side for Zoology and we look forward to being entertained and educated at the same time.
First up for our returning residents is Miles Gorfy. Miles joined us in the latter years of Zoology, in part because of his fine work with the Zoo2 after party and his track record as a guest at Zoo. Zoology was one of the many residencies he has held and his gig list would give this poor writer RSI to list in full!
Whilst Miles favours Hard House and fast and hard at that! He is versatile enough to play House (as his residency at Subversion confirmed) as well as Trance. He is under strict BPM orders for Zoo1o6y and will be closing the night with a set of Trance classics
Our next returning resident and official warmer upper for the night is DJ Forth. Another later arrival to the party DJ Forth first played for us back in 2004… He became resident in 2009 and supplied with an amazing variety of sets over the next couple of years.
Deep House, Techno House and a splash of Techno! He many even get funky… Who knows!
Finally we have our trio of Zoologist's RedCaT, B.S.E and Latex Zebra… The latter two can still be seen playing at a host of events, some of them their own, all over the place. RedCaT is returning from the USA for this special night… And possibly to escape Donald Trump as well.
All versatile and capable of playing multiple genres you can expect the Tingliest Trance and Toughest Techno (Note to self, don't overdo it with the alliteration next time) with a solo set from each of these outstanding DJs!
Zoo1o6y - The 16th Birthday Party
Friday 10th November
10pm till 7am
Club 414, Coldharbour Lane, Brixton
£5 before Midnight
£10 After
DJs
Jerome Hilll
R&D
Miles Gorfy
DJ Forth
RedCaT
B.S.E
Latex Zebra
Click
---
Email
info@club414.org
---
Telephone / Text
02079249322
---
Facebook Event Link
Click
---