Calendar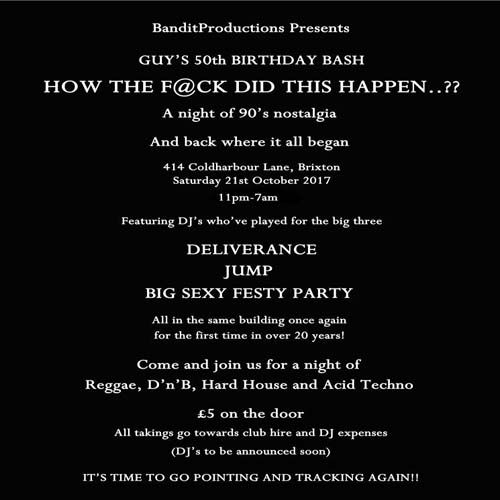 Bandit Productions Presents (Guy's 50th Birthday Bash)
21 October, 2017 // 11:00 PM until 7:00 AM
Acid Techno, Hard House, R n' B, Reggae
Cost - £5b412 £10 after.
Tickets
Bandit Productions Presents (Guy's 50th Birthday Bash) Ticket
Jah Tom
Tim Powis
Mark Rowe
Simon Cumulus
Luke Brancaccio
Aztex
Oz
Melomaniac
Bandit Production Presents
Guy's 50th Birthday Bash
HOW THE FU@K THIS THIS HAPPEN..??
A night of 90's nostalgia and back where it all began featuring dj's who've played for the big three
Deliverance
Jump
Big Sexy Festy Party
All in the same building for the first time in over 20 years. Come and join us for a night of Reggae, R'N'B, Hard House and Acid Techno.
ROOM 2 (Chill Out Lounge/cafe)
A beautiful place to sit down and chill
& chat with your friends
* High Quality Deco
* Lights and Lazer Show
* Friendly Security
* Over 18 Only
(Open Roof terrace for those who wish to smoke)
Please note that excessive noise will be not tolerated outdoors
Please respect the neighbourhood, Thank you for your co-operation 🙂
Date: 21/10/2017
Time: 23:00PM - 07:00AM
Price @ the door £5b4 Midnight / £10 After.
Please Bring Photo ID / No ID No ENTRY
London's No.1 Clubbing Night Out!
Club 414 -
414 Coldharbour Lane, Brixton, SW9, 8LF. London, UK
HOW TO GET THERE ::
Tube = Brixton (Victoria Line) 1 minute walk
Rail = Brixton (Mainline station) 2 minutes walk
Daytime buses : 2,3,35,37,45,59,109,118,133,159,196,250,322,333,345,355,415,432,P4,P5
Night buses = N2,N3,N35,37,N133,N159,250,689,690
Directions: Come out of Brixton tube station and turn left. Walk 100 yards till you see KFC on your left. Turn left and walk 100 yards. You have reached your destination on the left.
* Please invite only good vibe's.
* Bad vibes are not allowed.
* Select your best friend's for best time.
* Respect the neighbourhood when smoking.
* Dance like nobody is watching.
* Love, Peace n Light!
-----·٠•●ૐ●•٠· -----·٠•●ૐ●•٠· -----·٠•●ૐ●•٠· -----·٠•●ૐ●•٠· ----
Click
---
Email
info@club414.org
---
Telephone / Text
02079249322
---
Facebook Event Link
Click
---