Prime Time ( 15th Year Birthday Celebration)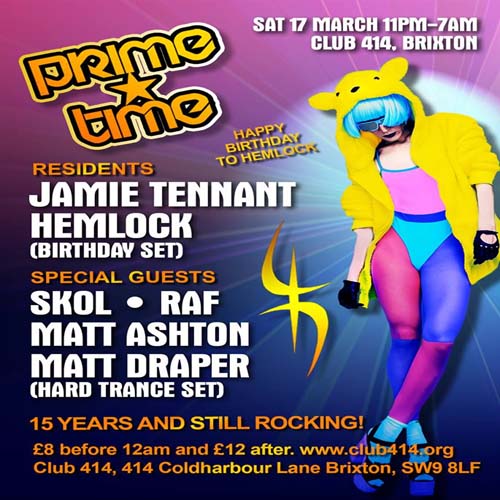 17 March, 2018 // 11:00 PM until 7:00 AM
Hard Dance, Hard House, Hard Trance
Cost – £8b412 £12 after.
Tickets
Prime Time ( 15th Year Birthday Celebration) Ticket
Skol
Jamie Tennant
Hemlock (Birthday Set)
RAF
Matt Ashton
Matt Draper
Prime Time's (15th Year Celebration)
Prime Time is back at the 414 for its 15th year birthday celebration party, how time flies. It was about 4 years ago when this awesome party last played at the venue, and I must say, it's been greatly missed.
Special birthday set from Hemlock on his return, alongside resident Jamie Tennant Skol, RAF, Matt Ashton and Matt Draper.
First up we have Matt Draper gently bringing you up to speed with some Uplifting Trance from 11pm till 12am. Then RAF from 12am till 1.15am upping the pace to a respectable beat playing Uplifting Bouncy Hard House. Skol will then take centre stage from 1.15 till 2.45 with a Hard House & Hard Dance old & new set until our resident & master of ceremony Jamie Tennant takes charge from 2.45 till 4.15 playing a selection of the best tunes played at Prime Time over the last 15 years. Matt Aston will then play Hard Trance from 4.15am till 5.30am paving the way for the ultimate birthday set by Hemlock from 5.30 till close.
So make it a date and don't be late for a night of total nostalgia at London's favourite underground dance venue Club 414 of Brixton.
Djs
Jamie Tennant
https://www.facebook.com/jamieprimetimetennant
Hemlock (Birthday Set)
https://www.facebook.com/mrhemlock
Skol
https://www.facebook.com/skol.kelly
RAF
https://www.facebook.com/RAF1210
Matt Ashton
Matt Draper
https://www.facebook.com/matt.draper.5205
DATE:
Saturday 17th March 2018
MUSIC STYLE:
Hard Uplifting House – Hard Trance
TIME:
11pm till 7am
VENUE ADDRESS:
414 Coldharbour Lane, Brixton, SW9 8LF, London, UK
(1 minute walk from Brixton Tube/Rail)
PRICE:
£8 (Before Midnight)
£12 (After Midnight)
Tickets £8
www.club414.org
~~~~~~~~~~~~~~~~~~~~~~~~~~~~~~~
* Safe and Friendly Environment
* Full On Sound System
* Full Decor
* Lights and Lazer Show
* Friendly Security
* Over 18 Only
(Open Roof Terrace for those who wish to smoke)
Please note that excessive noise will be not tolerated outdoors
Please respect the neighbourhood, Thank you for your co-operation 🙂
London's No.1 Saturday night Hard Dance Clubbing Night Out!
Club 414 –
414 Coldharbour Lane, Brixton, SW9, 8LF. London, UK
HOW TO GET THERE ::
Tube = Brixton (Victoria Line) 1 minute walk
Rail = Brixton (Mainline station) 2 minutes walk
Daytime buses : 2,3,35,37,45,59,109,118,133,159,196,250,322,333,345,355,415,432,P4,P5
Night buses = N2,N3,N35,37,N133,N159,250,689,690
Directions: Come out of Brixton tube station and turn left. Walk 100 yards till you see KFC on your left. Turn left and walk 100 yards. You have reached your destination on the left.
---
Email
info@club414.org
---
Telephone / Text
02079249322
---
Facebook Event Link
---