Bar 414 Brixton Presents
GRASS ROOTS LIVE MUSIC SUNDAYS BANK HOLIDAY SPECIAL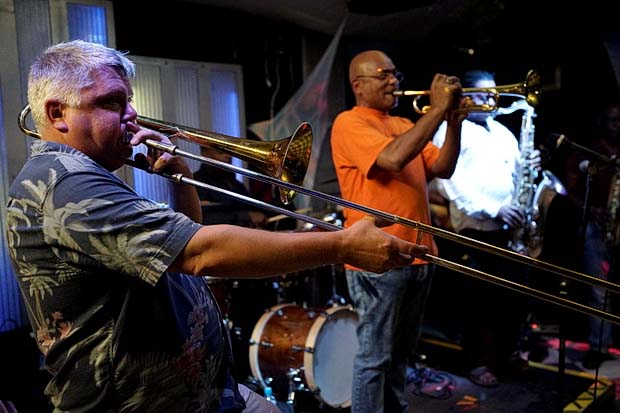 Many thanks for the support shown last Sunday at G-R-L-M-S, what a night had by all, Encore after Encore for the 414 band & Linda Muriel, who graced us with her voice and presence.
For this week's Bank Holiday Sunday edition we will start the band a bit later than normal in order to maximise audience participation, around 10pm should do the trick.
Bar 414 each and every Sunday from 6pm till 1am will showcase some of best grass roots musical talent that Brixton and surrounding area has to offer. This new initiative will give a stage to all the budding young musicians in our midst waiting for the chance to gain some vital experience at grass roots level before hopefully moving on to bigger and better things.
If you are over 18 and feel you have what it takes, please contact band leader Patrick Anthony (former UB40 trumpeter) on mobile: 07479536188
Bar 414 in the past has played host to promotions like "Jazzmo'thology" who introduced some of the capitals finest Jazz, Soul, Blues & Ska artists to the venue such as Paul Lunga, Carl Mcintosh of Loose Ends, The Omar Puente trio, Tony Remy, Julie Dexter, Imaani, Nathaniel Facey, Linda Murlel, DaPaul London, Noreen Stewart, Sirael, Jimmy Lindsay, Daniel Louis, Ray Carless, The Soca Divettes and many more backed by The Westly Joseph Collective Band.
It is hoped from time to time some of these artists will revisit the venue if only to give inspiration to the up & coming.
Club 414/Bar 414 has been part of Brixton's music and creative industry for over 30 years situated at 414 Coldhabour lane, Brixton, sw9, 8lf.
ROOM 1
Stage, Dance floor & Bar
Band members: Patrick Anthony (Trumpet) Lance Rose (Bass) Maurice Brown (Guitar) Bukky Leo, Bammi Rose, Sara Tobias ( Sax) Gary Williams & Saleem (Drums) Plus vocalist George Kelly in attendance.
ROOM 2 (Chill Out Lounge/cafe)
A beautiful place to sit down and chill, chat with your friends or have some food.
ROOF TERRACE.
Free on the Door, Donations for the band welcome..