Just Groove @ Club 414 this Sunday!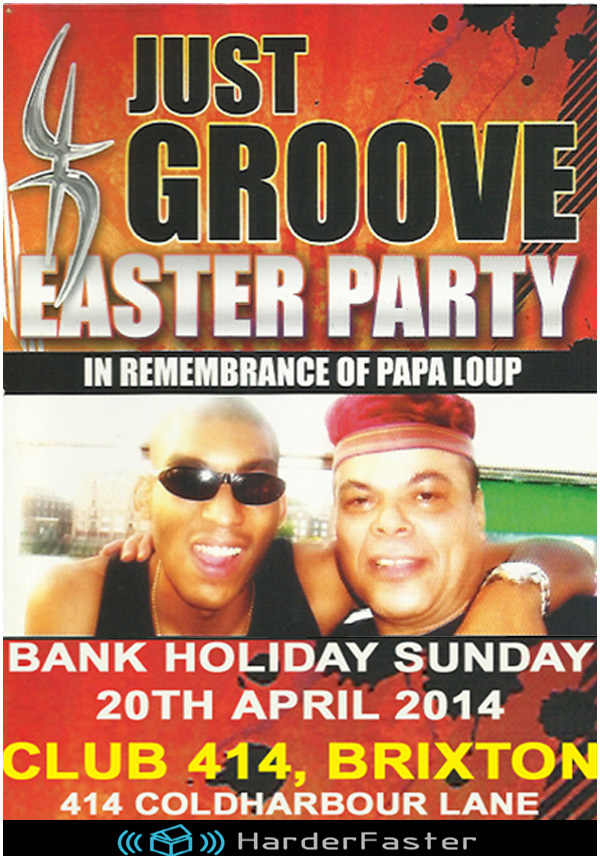 In memory of a clubland legend Papa Loup!
We walk many roads as we go through life…We meet many people as we go…some roads we don't always stay on..some roads branch off never to cross again….
The road we walked with you drew to an end in 2006…we were very sad to say goodbye but truly happy to have known you….. Memories of the fun and laughter we had, still gives us a warm and contented feeling…Your infectious smile and sparkle, your kind and pleasant nature, your enthusiasm and sense of fun can still be giggled at ….. So with Skol, Roosta, Muzz and the rest of the crew….. we aim to raise the roof once more of the 414 to a Legend of Clubland…Papa Loup!
Djs: SKOL ROOSTA MUZZ, MATT RUSH, AARON JAMES, JAMIE TENNANT, MUMBLES, MATT G, MONIQUE.
Ent £5 before 12am, £10 after. Please Bring Photo ID / No ID No ENTRY
Club 414, 414 Coldharbour Lane, Brixton, SW9, 8LF. London, UK
HOW TO GET THERE :: Tube = Brixton (Victoria Line) 1 minute walk. Rail = Brixton (Mainline station) 2 minutes walk.
Daytime buses : 2,3,35,37,45,59,109,118,133,159,196,250,322,333,345,355,415,432,P4,P5. Night buses = N2,N3,N35,37,N133,N159,250,689,690
Directions: Come out of Brixton tube station and turn left. Walk 100 yards till you see KFC on your left. Turn left and walk 100 yards. You have reached your destination on the left.