Club 414 Brixton
Historic Brixton Nightclub Saved – For Now
The planning permission, controversially granted by Lambeth Council planning officers under delegated powers, would have led to the loss of the Club together with the ancillary flat which is the handome of the Claimant, the Club's owner, Louise Barron. The Club opened shortly after the Brixton riots of 1985 and has been in business ever since.  Initially a reggae cl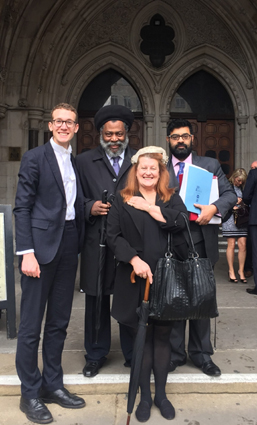 ub, playing host to many famous Jamaican performers, in the mid 1990s it switched to music "… wholly or predominantly characterised by the emission of a succession of repetitive beats" around the time section 63 of the Criminal Justice and Public Order Act 1994 became law.  It is now one of the few specialist house and trance nightclubs left in London.
The decision was made to grant permission despite huge public interest and hundreds of objections.
Jonathan Clay and Matt Lewin of Cornerstone Barristers, instructed by Riz Majid of Neumans LLP, were instructed by Louise Barron to challenge the planning permission. They advanced seven grounds of challenge and all were given permission by Mr Justice Collins in December 2015 to proceed to a full hearing to be heard yesterday (18 May).
Both the Council and the developer eventually conceded the claim. However, the Council would not agree to a statement of reasons that included unlawful delegation as a reason for quashing the planning permission.  Nor did the Council accept that the Court could make an order requiring the planning application to be re-determined by its planning committee.  The Council did accept that they had failed to consider the (then emerging) Lambeth Local Plan, which was adopted just one week after the grant of permission.  Crucially, the Lambeth Local Plan recognises the importance of protecting the night time economy in Brixton and supports leisure uses where they contribute to the vitality and viability of Brixton town centre.
Matt Lewin appeared for the Claimant in front of Mr Justice Gilbart yesterday morning. In negotiations in the corridors of the Royal Courts of Justice, the Council and the developer accepted Ms Barron's case that CPR r.54.19(2)(a)(ii) allowed the Court to direct the Council to re-determine the application for planning permission in the light of the Claimant's arguments made under Ground Four (which argued that the delegated decision had been taken ultra vires or unlawfully).
Mr Justice Gilbart accepted the agreed order and quashed the planning permission. He also ordered the Council and developer to pay the Claimant's legal costs.  The application for planning permission now returns to the Council to take the decision again.
This important case will be of interest to both planning and licensing practitioners and the many people concerned by the alarming rate at which nightclubs and music venues are closing.
At the heart of this case was the Council's refusal to consider the role played by nightclubs in contributing to the culture and economy of Brixton town centre; Ms Barron's bold case to the High Court means that, when the Council comes to reconsider this application, it cannot ignore the legendary Club 414.
 Photo of Louise Barron, Anthony Pommell, Matt Lewin (Cornerstone baristers) and Riz Majid (Neumans LLP solicitors) outside the Royal Courts of Justice.