Welcome to the Club 414 website.
The Club 414 Road Show Presents.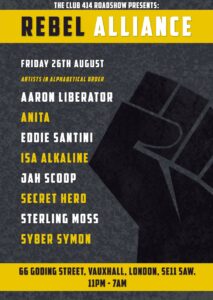 After the madness of Boomtown subsides, we can look forward to another massive acid techno party in London next week!
Join us for a night of throbbing 303's and pounding 909's, delivered by some of the best artists in the business.
Stand united with the underground – join the REBEL ALLIANCE!!
Artists in alphabetical order:
AARON LIBERATOR
ANITA
EDDIE SANTINI
ISA ALKALINE
JAH SCOOP
SECRET HERO
STERLING MOSS
SYBER SYMON
DATE: Friday 26th August 2022
VENUE ADDRESS:
The 414 Road Show,
66 Goding Street,
Vauxhall,
London,
SE11 5AW.
United Kingdom.
Tickets available from link in bio
Advance Price: £15
Door price: £20
Photo ID please.
CLICK HERE FOR REBEL ALLIANCE ETICKETS
PLEASE NOTE!
To all ticket holders.
Please print out your PayPal receipt and present at the door on arrival, a corresponding copy with identical serial number will be waiting for validation as proof of payment.
Thank you.