Welcome to the Club 414 website.
The Club 414 Road Show Presents.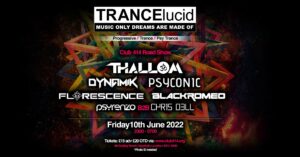 At this present moment in time Club 414 has no fix abode, but please rest assured the search continues to find that unique place we can call home for London's Psytrance community, so until we achieve our quest, please join The Club 414 Road Show as it presents TRANCElucid Progresive Trance Psy Trance Party on Friday 10th June 2022 from 11pm till 7am at one of London's top underground dance venues.