Psyphoenix Rising
The Club 414 Road Show
Presents.
Hey Party people!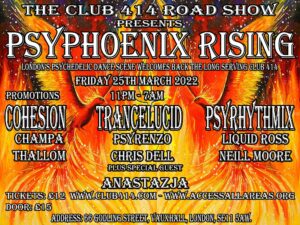 It's now official, Friday nights has become the new Saturday nights on the London Psytrance dance circuit.
After two years absents from the scene, the Club 414 Road Show proudly makes its return every Friday night 11pm till 7am at one of the capitals most intimate dance venue.
For these series of events starting on Friday 25th March 2022 we begin with a combination of Psychedelic trance promotions such as COHESION–PSYRHYTHMIX & TRANCELUCID, who use to feature regularly back in the days at our spiritual home on Coldharbour Lane in Brixton.
We now feel the time is right to get back doing what we love to do the most, and that is providing that unique underground dance vibes that we are known for & doing it the way only the 414 family can.
The Club 414 Road Show will take place every Friday for the foreseeable future at the address stated below.
The symbolic meaning of the phoenix is about renewal and overcoming the darkness of deep disappointment, to rise again to the challenge and to succeed, hence (Psyphoenix Rising)
We hope you will all join us on this given day and make this event a reunion to remember.
The Line-up:
COHESION
CHAMPA (LIVE)
Thallom
https://soundcloud.com/thallom
PSYRHYTHMIX
Liquid Ross
https://soundcloud.com/radiozora/ontheway16liquidross?ref=clipboard&p=i&c=0&si=38501BC93E944A1E83E2007A1921B64B&utm_source=clipboard&utm_medium=text&utm_campaign=social_sharing
Neill Moore
https://soundcloud.com/neill_moore
TRANCELUCID
Psyrenzo
https://soundcloud.com/psyrenzo
Chris Dell
https://soundcloud.com/chrisdell1
Plus special guest
Anastazja
DATE:
Friday 25th March 2022
MUSIC:
Psychedelic Trance
TIME:
23:00 – 07:00
VENUE ADDRESS:
The 414 Road Show,
66 Godling Street,
Vauxhall,
London,
SE11 5AW.
United Kingdom.
PRICE: £12 Tickets from www.club414.org
Door price (no ticket) £15
To all ticket holders.
Please print out your PayPal receipt and present at the door on arrival, a corresponding copy with identical serial number will be waiting for validation as proof of payment. Thank you.
NOTICES:
As you know at this present moment in time Club 414 has no fix abode, please rest assured the search continues to find that unique place we can call home for London's Hard House, Trance, Psytrance & Techno families.