Alumni – The 13th Birthday!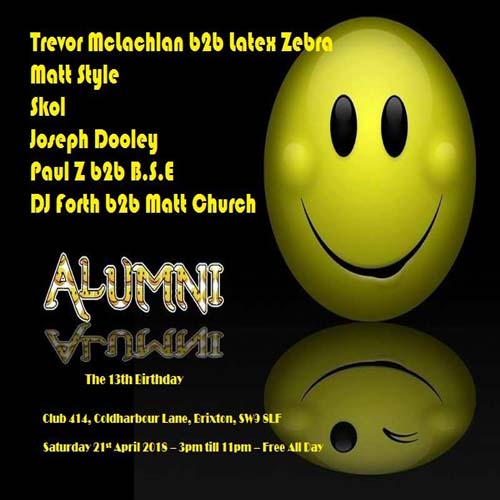 21 April, 2018 // 3:00 PM until 11:00 PM
Hard Dance, Hard House, Hard Trance, Trance, Techno
Cost – FREE! (Donations welcome)
ADVANCED TICKETS SOLD OUT!
Trevor McLachlan
Skol
Latex Zebra
Matt Style
Joseph Dooley
Paol Z
BSE
DJ forth
Matt Church
Alumni is 13… Now a terrible teenager. Fortunately Alumni doesn't do petulance or sulks or waking up to a chin full of spots… What we do is party!
We have a very special line up for our 13th Birthday including three debutants, a returning long time guest, the return of a very old guest (not in age… since he last played) and 4 of our residents!
Our first guest is Trevor McLachlan. Trevor has been DJing for 16 years and held a residency at the amazing Twisted parties as well as the massively respected Friendz.
He has guested all over the place at more parties than my fingers can cope with typing. He's also not too shabby when it comes to producing with a string of releases on the finest Hard Dance labels around.
A lover of all things Trance. Trevor will be going Back to Back with resident Latex Zebra. Expect quality classic Trance with a tough edge.
We also have a Dirty DJ joining us for the day.
Those who partied hard in the early to mid 2000's will have had the pleasure of enjoying the Dirty DJs as they demolished dance floors all over London. We welcome back, after a very long time, Matt Style.
As well as being a Dirty DJ, Matt was also party of the Nu Energy Collective and as expected, has played extensively around London.
We've asked Matt to deliver some Classic Trance for us and we're sure he'll dig deep and find some obscure classics among the massive anthems.
Our next guest was the lucky (he won't feel lucky when he wakes up the next day with the worst hangover he has ever had) winner of our search for a warm up DJ.
His name is Joseph Dooley, well actually it's Tim Griffith but we wont tell anyone. A DJ for over 15 years who built a name playing Hard House and Hardcore under the moniker Dodger.
The mix he sent was laden with the kind of classics that will get an Alumni started in style and we're very excited to have him play for us.
Next up is Zoology resident DJ Forth (Adrian Stainforth) who I was most surprised to find out has never played at Alumni before.
This is quite frankly shocking given his tune collection and mixing abilities so I'm glad we've put that right. He'll be teaming up with resident Matt Church – https://mattchurch.co.uk/ for a set of Proggy Classics… Possibly.
Next up is Paul Z (who has decided he doesn't want to be Zykotik anymore, the meds clearly working) who has played for us loads.
Hot on the heels of the launch of their exciting new Techno party Sonance, he'll be teaming up with resident B.S.E to deliver a set of Classic Techno… Probably.
Last and certainly not least is Skol. A man who needs no introduction… But gets one anyway.
Legend of the Hard House scene… We're proud to have him as a resident for Alumni and he will be closing the party as only he can.
Let's do this!
---
Email
info@club414.org
---
Telephone / Text
02079249322
---
Facebook Event Link
---