Korruption Presents: We Love You 414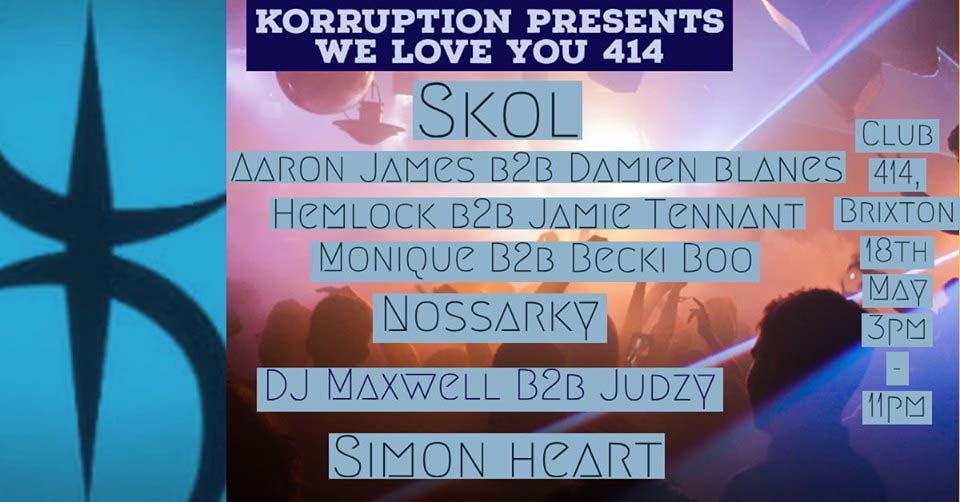 18 May, 2019 // 2:00 PM until 11:00 PM
Hard Dance, Hard Trance
Cost – FREE! (Donations welcome)
ADVANCED TICKETS SOLD OUT!
Skol
Aaron James
Monique
Hemlock
Jamie Tennant
Damien Blanes
DJ Maxwell
Marky P
Boris The Noss
Becki Boo
Judzy
Simon Hart
Hi guys it pains us to say this but this will be the last korruption and last Hardhouse party at the legendary club 414. Through out the years many of us have raved and played a set at 414 and many of us are heart broken over the closure of our beloved club. This is not about korruption this is about 414 so would like everyone who cares about 414 to attend as this is the last chance you will get to go to a party at this venue.
We only thought it would be right to add the 414 originals to the line up which are
Skol, Aaron James, Monique, Hemlock, Jamie Tennant
These guys are amazing djs very talented and have been playing at 414 for so many years. So we thought it would be what T and Louise would want and korruption would want also.
Our hearts go out to T and louise and we would like to thank then for all there parties and for working with korruption events.
Line up:
Skol
Aaron James
Monique
Hemlock
Jamie Tennant
Damien Blanes
DJ Maxwell
Marky P
Boris The Noss
Becki Boo
Judzy
Simon Hart
---
Email
info@club414.org
---
Telephone / Text
02079249322
---
Facebook Event Link
---