B.D. Man & Club 414 Presents (Fundraiser for Mosaic Clubhouse)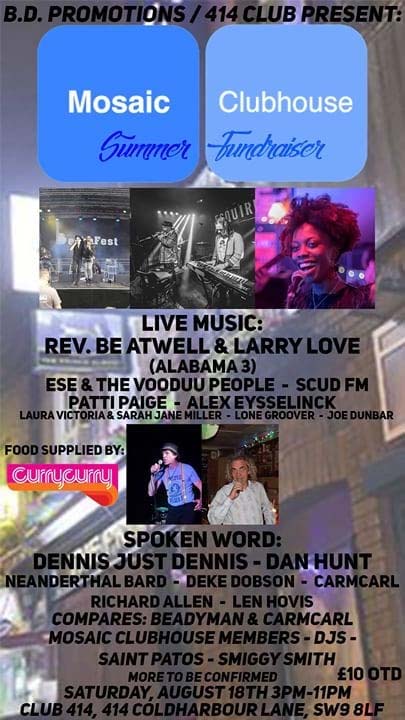 18 August, 2018 // 3:00 PM until 11:00 PM
Other
Cost – £10
Tickets
To purchase your tickets, head over and pay securely via stripe. Click here.
Rev Be Atwell (Alabama 3)
Larry Love (Alabama 3)
ESE & Vooduu People
Scud FM
Alex Esselinck
Djs Patti Paige & Smiggy Smith
Mosaic Clubhouse are based in Brixton and work tirelessly to improve the lives of people having issues with their mental wellbeing. You can see the hard work that they do here:
https://www.mosaic-clubhouse.org/what-we-do
This is going to be an amazing afternoon/evening with some of Brixtons finest musicians, poets and djs and some from further afield.
I promise you all this is going to be one not to be missed, so many have already pledged their services. Regular announcements will be made as we close in on the day with the confirmed line up. Entry fee for this event is £10 pay on the door, every penny of door proceeds go to Mosaic. Once club limit is reached event will be one out one in so you're advised to arrive early.
Confirmed acts so far: Rev. Be Atwell, Ese and the Vooduu people, Come on people, Patti Paige, Alex Eysselnick, Laura Victoria and Sarah Jane Miller, Lone Groover, Joe Dunbar. Poetry from: Dennis just Dennis, Dan Hunt, Neanderthal Bard, Deke Dobson, Len Hovis and Richard Allen. Comedy from Hillary Bennett and DJs Saint Patos and Smiggy.
Food will be available upstairs provided for a reasonable price by CurryCurry with profits going straight to Mosaic.
---
Email
info@club414.org
---
Telephone / Text
02079249322
---
Facebook Event Link
---