BUZZ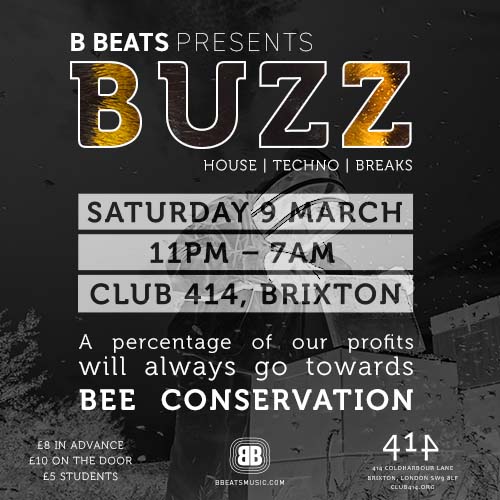 9 March, 2019 // 11:00 PM until 7:00 AM
Techno
Cost – £8 in Advance / £10 on the door Studends & Concessions ID – £5 entry before 2am
Tickets
BUZZ Ticket
Hyer Power
Neil F
PuttyRubber
Amber Apocalypse
OPGroover
& superstar special guest DJs:
SpawneeTim
JABaWookiee
Bovine Boy
Pollinators, innovators, liberators! Join us in Brixton once again for BUZZ – a frenetic hive of beats and bass!
Bumblebass breaks, honey house grooves and sting-in-the-tail techno in the comfort of our South London hive, Club 414.
The freshest selection of beats brought to you by the B Beats beatkeepers:
Hyer Power
Neil F
PuttyRubber
Amber Apocalypse
OPGroover
–
& superstar special guest DJs:
SpawneeTim
JABaWookiee
Bovine Boy
A percentage of our profits will always go towards *bee conservation*. As always with our parties, you can expect zero agro, a wicked vibe and friendly crowd.
£8 in Advance / £10 on the door
Students & Concessions ID – £5 entry before 2am
Buy Tickets here: www.bbeatsmusic.com
Your PayPal receipt is your ticket : )
---
Email
---
Telephone / Text
02079249322
---
Facebook Event Link
---