HDM at Club414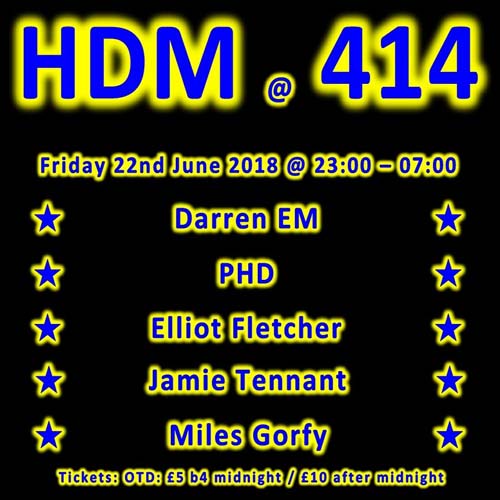 22 June, 2018 // 11:00 PM until 7:00 AM
Hard Dance, Hard House, Hard Trance
Cost – £5b412 £10 after.
Tickets
To purchase your tickets, head over and pay securely via stripe. Click here.
Darren EM
PHD
Elliot Fletcher
Jamie Tennant
Miles Gorfy
★★★ HDM @ 414 ★★★
Friday 22nd June 2018
23:00 – 07:00
Club 414, Brixton
HDM: the small club with the big DJs.
"…Awesome music, Awesome atmosphere, even better people…"
"Refreshing to see promoters who research their dj's & get the times just right."
HDM@414 aims to bring you the freshest new producers mixed with your 414 favourites providing a night of uplifting and energetic Hard Dance Music. Rotating your established favourite DJs with the future stars of the scene, the night has something for everyone. Expect up to date music as this is not a classics night.
See you down the front!
▀▀▀▀▀▀▀▀▀▀▀▀▀▀▀▀▀▀▀▀▀▀▀▀▀ ▀ ▀ ▀ ▀ ▀ ▀ ▀ ▀
COST: £5 before midnight / £10 after midnight
Please Bring Photo ID / No ID No ENTRY.
▀▀▀▀▀▀▀▀▀▀▀▀▀▀▀▀▀▀▀▀▀▀▀▀▀ ▀ ▀ ▀ ▀ ▀ ▀ ▀ ▀
▀▀▀▀▀▀▀▀▀▀▀▀▀▀▀▀▀▀▀▀▀▀▀▀▀ ▀ ▀ ▀ ▀ ▀ ▀ ▀ ▀
Club 414 –
414 Coldharbour Lane, Brixton, SW9, 8LF. London, UK
UV Decor
Lights and Laser Show
Full on sound system
Friendly Security
Over 18 Only
(Open Roof terrace for those who wish to smoke)
Please note that excessive noise will be not tolerated outdoors
Please respect the neighbourhood, Thank you for your co-operation 🙂
HOW TO GET THERE ::
Tube = Brixton (Victoria Line) 1 minute walk
Rail = Brixton (Mainline station) 2 minutes walk
Daytime buses : 2,3,35,37,45,59,109,118,133,159,196,250,322,333,345,355,415,432,P4,P5
Night buses = N2,N3,N35,37,N133,N159,250,689,690
Directions: Come out of Brixton tube station and turn left. Walk 100 yards till you see KFC on your left. Turn left and walk 100 yards. You have reached your destination on the left.
---
Email
info@club414.org
---
Telephone / Text
02079249322
---
Facebook Event Link
---