Illusiom PsyTrance Adventure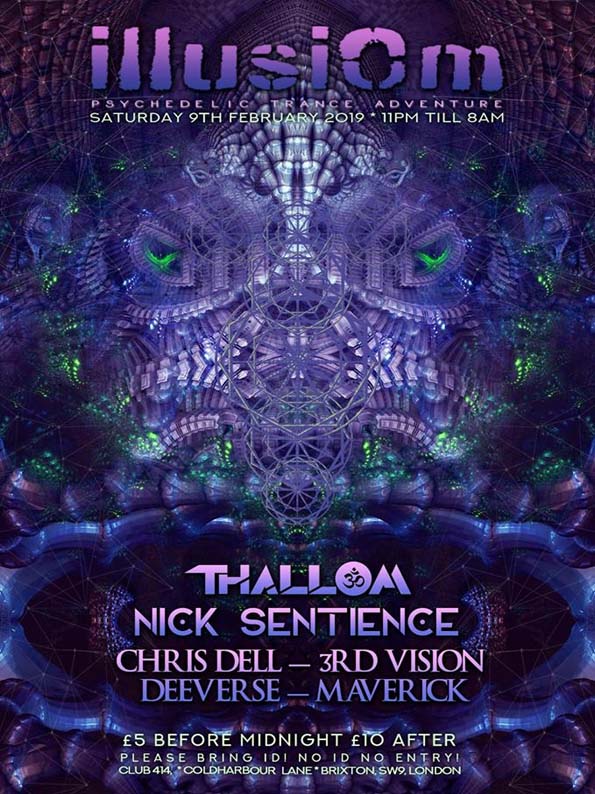 9 February, 2019 // 11:00 PM until 8:00 AM
Psychedelic Trance
Cost – £5b412 £10 after.
Tickets
To purchase your tickets, head over and pay securely via stripe. Click here.
Thallom
Nick Sentience
Chris Dell
3rd Vision
Deeverse
Maverick
Welcome back to another IllusiOm adventure!
came together and let' us make it a winter wonderland
with some of the finest artists in the capital
invite all your best friends for this marvelous adventure!!!
With:
Thallom
https://soundcloud.com/thallom
Nick Sentience
https://soundcloud.com/nicksentienceofficial
Chris Dell
https://soundcloud.com/chrisdell1
3rd Vision
https://soundcloud.com/3rd-vision
Deeverse
https://soundcloud.com/dee_verse
Maverick
https://soundcloud.com/alan-maverick
—–·٠•●ૐ●•٠· —–·٠•●ૐ●•٠· —–·٠•●ૐ●•
DATE:
Saturday 9th Feb 2019
MUSIC STYLE:
Progressive, Fullon & Psychedelic
TIME:
11pm till 08am
VENUE ADDRESS:
414 Coldharbour Lane, Brixton, SW9 8LF, London, UK
(1 minute walk from Brixton Tube/Rail)
PRICE:
£5 (Limited Online Early Bird Ticket's)
£5 (Before Midnight)
£10 (After Midnight)
—–·٠•●ૐ●•٠· —–·٠•●ૐ●•٠· —–·٠•●ૐ●•
* Roof Terrace
* Face Painting by Indigo Fusions
* High Quality Deco
* mapping visuals
* Lights and Lazer Show
* Friendly Security
* Over 18 Only
(Open Roof terrace for those who wish to smoke)
Please note that excessive noise will be not tolerated outdoors
Please respect the neighbourhood, Thank you for your co-operation 🙂
London's No.1 Psy Trance Clubbing Night Out!
Club 414 –
414 Coldharbour Lane, Brixton, SW9, 8LF. London, UK
HOW TO GET THERE ::
Tube = Brixton (Victoria Line) 1 minute walk
Rail = Brixton (Mainline station) 2 minutes walk
Daytime buses : 2,3,35,37,45,59,109,118,133,159,196,250,322,333,345,355,415,432,P4,P5
Night buses = N2,N3,N35,37,N133,N159,250,689,690
Directions: Come out of Brixton tube station and turn left. Walk 100 yards till you see KFC on your left. Turn left and walk 100 yards. You have reached your destination on the left.
●•Safe And Friendly Environment•●
●•London's No.1 Psy Trance Clubbing Night Out•●
●•Full On Sound System Plus Amazing Lasers & Lights•●
●•The Venue Has A Roof Terrace For Smokers•●
●•Plus A Chill Out Area To Relax & Cafe!•●
●•See you on the dance floor•●
* Please invite only good vibe's.
* Bad vibes are not allowed.
* Select your best friend's for best time.
* Respect the neighbourhood when smoking.
* Dance like nobody is watching.
* Love, Peace n Light!
—–·٠•●ૐ●•٠· —–·٠•●ૐ●•٠· —–·٠•●ૐ●•٠· —–·٠•●ૐ●•٠· —-
---
Email
info@club414.org
---
Telephone / Text
02079249322
---
Facebook Event Link
---