Psyrhythmix Christmas Party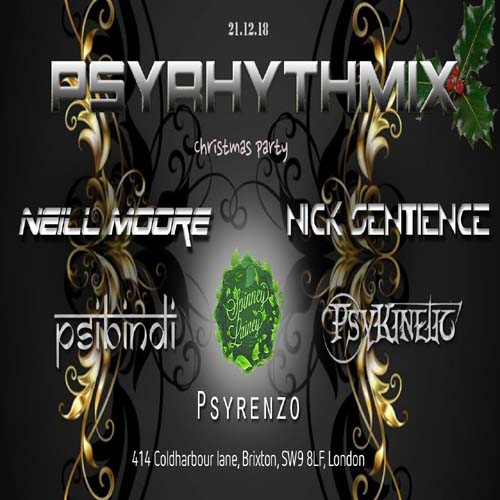 21 December, 2018 // 11:00 PM until 7:00 AM
Psychedelic Trance
Cost – £5b412 £10 after.
Tickets
To purchase your tickets, head over and pay securely via stripe. Click here.
SPINEY LAINEY
PSIBINDI
PSYKINETIC
PSYRENZO
Resident Artists:
NEILL MOORE
NICK SENTIENCE
PSYRHYTHMIX Christmas Party
▃▃▃▃▃▃▃▃▃▃▃▃▃▃▃▃▃▃▃▃▃▃▃▃▃▃
Psyrhythmix is happy to present a wonderful line up of colorful psychedelic music styles brought to you by some of the UK's best psytrance artists. For this edition, we will be celebrating with a festive special evening complete with Christmas decorations and treats that will get you right in the Christmas spirit. Come along and celebrate with us and rock it out to some amazing music with amazing friends.
▃▃▃▃▃▃▃▃▃▃▃▃▃▃▃▃▃▃▃▃▃▃▃▃▃▃
Guest Artists:
▃▃▃▃▃▃▃▃▃▃▃▃▃▃▃▃▃▃▃▃▃▃▃▃▃▃
★ SPINEY LAINEY
A stunning live artist complete with flute playing will be performing a set of her own progressive treats.
https://www.facebook.com/SpinneyLainey/?ref=br_rs
https://soundcloud.com/spinney-lainey
★ PSIBINDI
A beautiful singer and producer who will be giving us a full throttle taste of the twilighty sounds from Aphid Records. Rena is also one half of the chill out project
https://soundcloud.com/psibindi
https://www.facebook.com/djpsibindi/
★ PSYKINETIC
A regular fixture on the Uk circuit and excellent Dj that always tear things up with fantastic music and great energy
https://www.facebook.com/Neilpsykinetic/
https://soundcloud.com/dj-psykinetic
★ PSYRENZO
Club 414's little superstar who has been gaining so many followers since he started boshing out the psychedelic beats after changing his name from his trance alias 'Lorenzo Barrero'. He has been running TranceLucid at the club for some time and used to co-host Magnetix with Neill Moore back in the day. Get ready for some awesomeness.
https://www.facebook.com/psyrenzo.official/
https://soundcloud.com/psyrenzo
▃▃▃▃▃▃▃▃▃▃▃▃▃▃▃▃▃▃▃▃▃▃▃▃▃▃
Resident Artists:
▃▃▃▃▃▃▃▃▃▃▃▃▃▃▃▃▃▃▃▃▃▃▃▃▃▃
★NEILL MOORE
https://soundcloud.com/neill_moore
https://www.facebook.com/neillmoore.neolive/
★NICK SENTIENCE
https://soundcloud.com/nicksentience
https://www.facebook.com/nicksentience.productions/
▃▃▃▃▃▃▃▃▃▃▃▃▃▃▃▃▃▃▃▃▃▃▃▃▃▃
Flyer artist: Neill Moore
MUSIC STYLE:
Psychedelic Trance and Progressive Psytrance
TIME:
11pm till 7am
VENUE ADDRESS:
414 Coldharbour Lane, Brixton, SW9 8LF, London, UK
(1 minute walk from Brixton Tube/Rail)
PRICE:
£5 (Before Midnight)
£10 (After Midnight)
* Roof Terrace
* Psychedelic Decor
* mapping visuals
* Lights and Lazer Show
* Friendly Security
* Over 18 Only
(Open Roof terrace for those who wish to smoke)
Please note that excessive noise will be not tolerated outdoors
Please respect the neighbourhood, Thank you for your co-operation 🙂
London's No.1 Friday night Psy Trance Clubbing Night Out!
Club 414 –
414 Coldharbour Lane, Brixton, SW9, 8LF. London, UK
●•Safe And Friendly Environment•●
●•Full On Sound System Plus Amazing Lasers & Lights•●
●•The Venue Has A Roof Terrace For Smokers•●
●•Plus A Chill Out Area To Relax & Cafe!•●
●•See you on the dance floor•●
* Please invite only good vibe's.
* Bad vibes are not allowed.
* Select your best friend's for best time.
* Respect the neighbourhood when smoking.
* Dance like nobody is watching.
* Love, Peace n Light!
HOW TO GET THERE ::
Tube = Brixton (Victoria Line) 1 minute walk
Rail = Brixton (Mainline station) 2 minutes walk
Daytime buses : 2,3,35,37,45,59,109,118,133,159,196,250,322,333,345,355,415,432,P4,P5
Night buses = N2,N3,N35,37,N133,N159,250,689,690
Directions: Come out of Brixton tube station and turn left. Walk 100 yards till you see KFC on your left. Turn left and walk 100 yards. You have reached your destination on the left.
---
Email
info@club414.org
---
Telephone / Text
02079249322
---
Facebook Event Link
---