Psyrhythmix Pres. Audiofire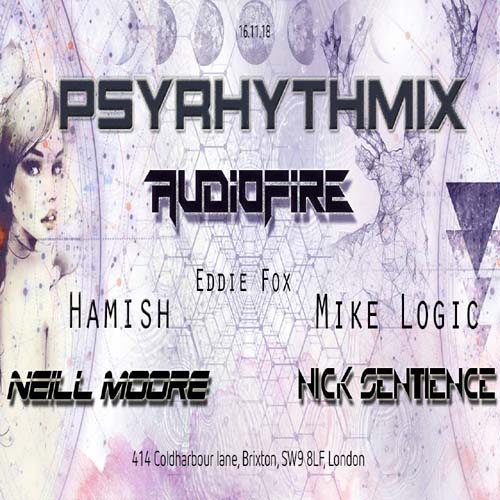 16 November, 2018 // 11:00 PM until 7:00 AM
Psychedelic Trance
Cost – £5b412 £10 after.
Tickets
To purchase your tickets, head over and pay securely via stripe. Click here.
AUDIOFIRE
MIKE LOGIC
HAMISH
EDDIE FOX
NEILL MOORE
NICK SENTIENCE
▃▃▃▃▃▃▃▃▃▃▃▃▃▃▃▃▃▃▃▃▃▃▃▃▃▃
★★★PSYRHYTHMIX★★★
▃▃▃▃▃▃▃▃▃▃▃▃▃▃▃▃▃▃▃▃▃▃▃▃▃▃
We are back once again like the renegade master and check out this killer line up we got in store to get your teeth into. So replace that date in your diary with this upgrade and get ready for some magical music coming your way.
▃▃▃▃▃▃▃▃▃▃▃▃▃▃▃▃▃▃▃▃▃▃▃▃▃▃
Guest Artists:
▃▃▃▃▃▃▃▃▃▃▃▃▃▃▃▃▃▃▃▃▃▃▃▃▃▃
★AUDIOFIRE [Digital Om]
https://soundcloud.com/audiofirelive
https://www.facebook.com/audiofirelive/
In a short space of time, Audiofire has taken the London scene by storm, this number one chart-topping producer hits the decks one last time before his departure to live in Mexico and we are over the moon to have him headline this party,
★MIKE LOGIC [Liquid Recods/Broken Records]
https://soundcloud.com/monk3ylogic
https://www.facebook.com/Monk3ylogic/
The psytrance project of one half of the legendary breaks artist, Monk3yLogic.
★HAMISH [Future Progressions Recods]
https://soundcloud.com/djhamish
https://www.facebook.com/djhamish/
Massively respected DJ whose sets have always been anticipated. Label owner of the awesome 'Future Progressions Records' and has had a string of very impressive gigs over the years.
★EDDIE FOX
https://www.facebook.com/eddiefox277/
We got her into DJing and now we just cannot help but get her on board to warm up the party, Eddie plays every psy style under the sun and is an all-around artist in every angle of life, as well as one heck of a DJ.
▃▃▃▃▃▃▃▃▃▃▃▃▃▃▃▃▃▃▃▃▃▃▃▃▃▃
Resident Artists:
▃▃▃▃▃▃▃▃▃▃▃▃▃▃▃▃▃▃▃▃▃▃▃▃▃▃
The trusty Psyrhythmix residents know what you want and delivery of the goods here is more reliable than your purchases off Amazon.
★NEILL MOORE [Altered States Music/Liquid Records]
https://soundcloud.com/neill_moore
https://www.facebook.com/neillmoore.neolive/
★NICK SENTIENCE [OnFormat Recordings]
https://soundcloud.com/nicksentience
https://www.facebook.com/nicksentience.productions/
▃▃▃▃▃▃▃▃▃▃▃▃▃▃▃▃▃▃▃▃▃▃▃▃▃▃
Flyer artist: Neill Moore
MUSIC STYLE:
Psychedelic Trance and Progressive Psytrance
TIME:
11pm till 7am
VENUE ADDRESS:
414 Coldharbour Lane, Brixton, SW9 8LF, London, UK
(1 minute walk from Brixton Tube/Rail)
PRICE:
£5 (Before Midnight)
£10 (After Midnight)
* Roof Terrace
* Psychedelic Decor
* mapping visuals
* Lights and Lazer Show
* Friendly Security
* Over 18 Only
(Open Roof terrace for those who wish to smoke)
Please note that excessive noise will be not tolerated outdoors
Please respect the neighbourhood, Thank you for your co-operation 🙂
London's No.1 Friday night Psy Trance Clubbing Night Out!
Club 414 –
414 Coldharbour Lane, Brixton, SW9, 8LF. London, UK
●•Safe And Friendly Environment•●
●•Full On Sound System Plus Amazing Lasers & Lights•●
●•The Venue Has A Roof Terrace For Smokers•●
●•Plus A Chill Out Area To Relax & Cafe!•●
●•See you on the dance floor•●
* Please invite only good vibe's.
* Bad vibes are not allowed.
* Select your best friend's for best time.
* Respect the neighbourhood when smoking.
* Dance like nobody is watching.
* Love, Peace n Light!
HOW TO GET THERE ::
Tube = Brixton (Victoria Line) 1 minute walk
Rail = Brixton (Mainline station) 2 minutes walk
Daytime buses : 2,3,35,37,45,59,109,118,133,159,196,250,322,333,345,355,415,432,P4,P5
Night buses = N2,N3,N35,37,N133,N159,250,689,690
Directions: Come out of Brixton tube station and turn left. Walk 100 yards till you see KFC on your left. Turn left and walk 100 yards. You have reached your destination on the left.
---
Email
info@club414.org
---
Telephone / Text
02079249322
---
Facebook Event Link
---