Psyrhythmix Pres. Journey (aka Jay Om) Bubblez EP Presentation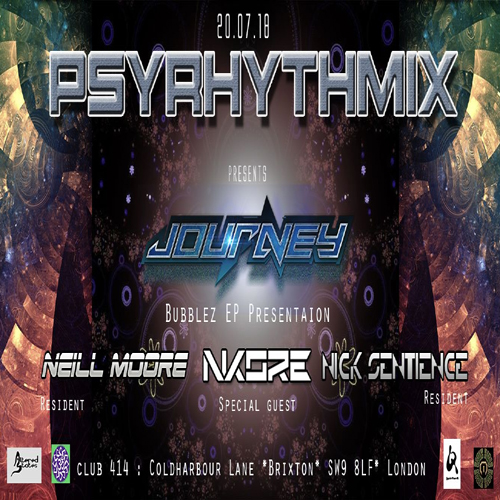 20 July, 2018 // 11:00 PM until 7:00 AM
Psychedelic Trance
Cost – £5b412 £10 after.
Tickets
To purchase your tickets, head over and pay securely via stripe. Click here.
Jay Om
N-kore
Neill Moore
Nick Sentience
Psyrhythmix Pres. Journey (aka Jay Om): Bubblez EP Presentation
For this party we are very excited to has as headliner, Free-Spirit Records label manager, Jay Om playing as Journey. Jay has been involved in the scene for many years and has had a long list of fantastic music with collaborations and joint projects that far exceed most producers out there, Omsphere, Sonic Wave Control, Keewl and the Wayfarers are his other projects that amount to a total of sixty-five releases and three albums including that of Journey. Jay is also the promoter of the fantastic London event, Tribal Village, and has been running Free-Spirt Records for fourteen years with a great list of artists that he has supported and released music for. For this party he will be showcasing his latest two track EP release called Bubblez, to be released on Free-Spirit records, along with a second track collaboration with last months headliner M-theory called 'Knights of London'. Get down to the party to check out this awesome release and grab a copy on the release date on 8th August. Joining him we have one of London's rising stars and production wizard, N-kore. Signed to Mutagen and Biopulse Records he has been making waves in the scene and releasing and producing quality music for many years and has now become one to look out for. We are super excited to have him play a banging dj set with support from our legendary residents, Neill Moore and Nick Sentience, who's job to bring the sound of the various guests together with style never fails. We look forward to seeing you there.
ૐ Journey (aka Jay Om) [Free-Spirit Records]
https://www.facebook.com/JOURNEYakaJayOM/
https://soundcloud.com/journeyakajayom
http://free-spiritrecords.com/
ૐ N-kore [Mutagen Records / Biopulse Records]
https://www.facebook.com/NkoreSounds/
https://soundcloud.com/n-kore
https://www.nkoremusic.com/
ૐ Neill Moore [Liquid Records / Altered States Music]
https://www.facebook.com/neillmoore.neolive/
https://soundcloud.com/neill_moore
https://soundcloud.com/neill-moore-live
ૐ Nick Sentience [On Format Recordings]
https://www.facebook.com/nicksentience.productions/
https://soundcloud.com/nicksentience
https://onformat.bandcamp.com/
MUSIC STYLE:
Progressive, Fullon, Psychedelic, Twilight, Psybreaks
TIME:
11pm till 7am
VENUE ADDRESS:
414 Coldharbour Lane, Brixton, SW9 8LF, London, UK
(1 minute walk from Brixton Tube/Rail)
PRICE:
£5 (Before Midnight)
£10 (After Midnight)
* Roof Terrace
* Psychedelic Decor
* mapping visuals
* Lights and Lazer Show
* Friendly Security
* Over 18 Only
(Open Roof terrace for those who wish to smoke)
Please note that excessive noise will be not tolerated outdoors
Please respect the neighbourhood, Thank you for your co-operation 🙂
London's No.1 Friday night Psy Trance Clubbing Night Out!
Club 414 –
414 Coldharbour Lane, Brixton, SW9, 8LF. London, UK
●•Safe And Friendly Environment•●
●•Full On Sound System Plus Amazing Lasers & Lights•●
●•The Venue Has A Roof Terrace For Smokers•●
●•Plus A Chill Out Area To Relax & Cafe!•●
●•See you on the dance floor•●
* Please invite only good vibe's.
* Bad vibes are not allowed.
* Select your best friend's for best time.
* Respect the neighbourhood when smoking.
* Dance like nobody is watching.
* Love, Peace n Light!
HOW TO GET THERE ::
Tube = Brixton (Victoria Line) 1 minute walk
Rail = Brixton (Mainline station) 2 minutes walk
Daytime buses : 2,3,35,37,45,59,109,118,133,159,196,250,322,333,345,355,415,432,P4,P5
Night buses = N2,N3,N35,37,N133,N159,250,689,690
Directions: Come out of Brixton tube station and turn left. Walk 100 yards till you see KFC on your left. Turn left and walk 100 yards. You have reached your destination on the left.
---
Email
info@club414.org
---
Telephone / Text
02079249322
---
Facebook Event Link
---