Psyrhythmix presents: Aphid Moon and Ozorian guests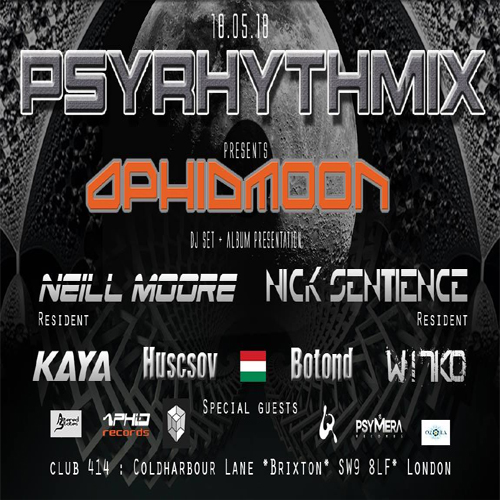 18 May, 2018 // 11:00 PM until 7:00 AM
Psychedelic Trance
Cost – £5b412 £10 after.
Tickets
To purchase your tickets, head over and pay securely via stripe. Click here.
APHID MOON
NEILL MOORE
NICK SENTIENCE
BOTOND
DJ HRUSCSOV
KAYA
W17K0
We are back again with another great line up for this months Psyrhythmix and we are pleased to present to you the following artist:
APHID MOON (Aphid Records)
https://www.facebook.com/aphidmoon/?ref=br_rs
https://soundcloud.com/aphid-moon
This Uk based legendary producer will be playing us a DJ set of fantastic music from Aphid records and new unreleased material from his forthcoming album. We are super excited to have his energetic and very psychedelic sound that has been played all over the world for years come and blast at the May party.
NEILL MOORE (Liquid Records/Altered States)
https://www.facebook.com/neillmoore.neolive/
https://soundcloud.com/neill_moore
One of the most solid DJs on the scene, moving though many different trance styles over the years and has at least 14 years of behind the decks experience. Neill is also resident for Psyrhythmix and his sets have been helping set the standards and style for what people expect from the event as well as many other across London.
NICK SENTIENCE (Onformat Recordings)
https://www.facebook.com/nicksentience.productions/
https://soundcloud.com/nicksentience
A huge legend in his previous style of hard dance music, he is now a firm fixture in the psytrance scene and resident for psyrhythmix, his unique approach to production and his history has even got him in to the dj top 100 charts
BOTOND (Tessaract Studio Recordings)
https://www.facebook.com/botond.dj/
https://www.mixcloud.com/botond/
We welcome one of Hungary's finest DJs who will be flying over to bring us a taste of his awesome progressive sound, signed to the massive Tessaract studios records and founder of Y-productions, this DJ has a huge track record of gigs and event productions including being part of the mighty Ozora festival team.
DJ HRUSCSOV (Y-Productions)
https://www.facebook.com/DjHruscsov/
One of the most well known psytrance live acts in Hungary. The Y-east was founded in the beginning of 2007, but has musical past.
HHe was born in 1974, learned in the Hungarian Music Art Academy (clarinet and piano) since '95 till '98 rock singer in the group "Ratrain", since 2000 goa/trance DJ, party organiser, psytrance musician. Y-productions management is also ran by Hruscsov which prioritizes in Progressive/Fullon psytrance parties.
KAYA (PSYMERA Records)
https://www.facebook.com/Kaya.England/
https://soundcloud.com/user-833158859
A long time Dj who is also quite new to the psy scene yet has fallen in love with it and it shows in his awesome solid sets. already playing quality sets and events like PSYMERA, Kaya is one to watch out for and those that have seen him play can vouch for this.
W17K0 (Psypiratz)
https://www.facebook.com/djw17k0/
https://soundcloud.com/w17k0
Andy Wilkinson is the man behind the new dj project that has in a short space of time began to get him recognition from rumours over the grapevine. We have heard him play before and we are very keen on his new twilight style of playing. Andy is also the promoter for Psypiratz.
—–·٠•●ૐ●•٠· —–·٠•●ૐ●•٠· —–·٠•●ૐ●•٠· —–·٠•●ૐ●•٠· —-
MUSIC STYLE:
Progressive, Fullon & Psychedelic
TIME:
11pm till 7am
VENUE ADDRESS:
414 Coldharbour Lane, Brixton, SW9 8LF, London, UK
(1 minute walk from Brixton Tube/Rail)
PRICE:
£5 (Before Midnight)
£10 (After Midnight)
* Roof Terrace
* Psychedelic Decor
* mapping visuals
* Lights and Lazer Show
* Friendly Security
* Over 18 Only
(Open Roof terrace for those who wish to smoke)
Please note that excessive noise will be not tolerated outdoors
Please respect the neighbourhood, Thank you for your co-operation 🙂
London's No.1 Friday night Psy Trance Clubbing Night Out!
Club 414 –
414 Coldharbour Lane, Brixton, SW9, 8LF. London, UK
●•Safe And Friendly Environment•●
●•Full On Sound System Plus Amazing Lasers & Lights•●
●•The Venue Has A Roof Terrace For Smokers•●
●•Plus A Chill Out Area To Relax & Cafe!•●
●•See you on the dance floor•●
* Please invite only good vibe's.
* Bad vibes are not allowed.
* Select your best friend's for best time.
* Respect the neighbourhood when smoking.
* Dance like nobody is watching.
* Love, Peace n Light!
HOW TO GET THERE ::
Tube = Brixton (Victoria Line) 1 minute walk
Rail = Brixton (Mainline station) 2 minutes walk
Daytime buses : 2,3,35,37,45,59,109,118,133,159,196,250,322,333,345,355,415,432,P4,P5
Night buses = N2,N3,N35,37,N133,N159,250,689,690
Directions: Come out of Brixton tube station and turn left. Walk 100 yards till you see KFC on your left. Turn left and walk 100 yards. You have reached your destination on the left.
—–·٠•●ૐ●•٠· —–·٠•●ૐ●•٠· —–·٠•●ૐ●•٠· —–·٠•●ૐ●•٠· —-
---
Email
info@club414.org
---
Telephone / Text
02079249322
---
Facebook Event Link
---