Psyrhythmix – Psytrance Adventure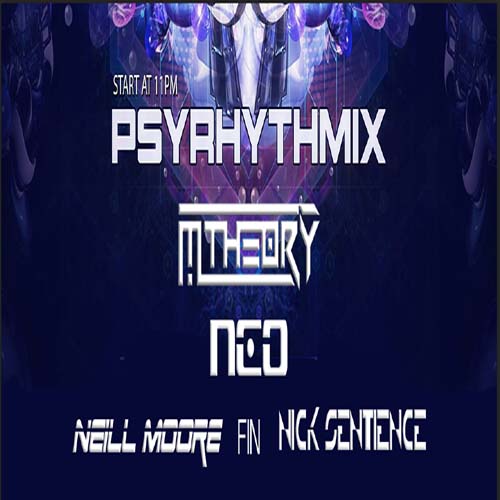 15 June, 2018 // 11:00 PM until 7:00 AM
Psychedelic Trance
Cost – £5b412 £10 after.
Tickets
To purchase your tickets, head over and pay securely via stripe. Click here.
M-THEORY
NEO
NEILL MOORE
NICK SENTIENCE
FIN
Psyrhythmix presents: M-theory (Live): Cosmic Catnip EP Launch
For this edition of Psyrhythmix we would like to welcome M-theory who we consider a true inspiration to many artists in the scene for many years. With a hugely impressive discography of amazing tracks and past gigs at all of the major world class events, M-theory is a name respected amongst the global artist roster and has made collaborations with most names worth mentioning. For this edition he will be showcasing a live set featuring his up and coming brand new EP to be released on Blacklite Records on June 21 2018, so come and get a sneak peak of some of his fresh and well known previous releases compiled into a seamless two hour set that we are super excited to have play at the June party.
Alongside him we will be showcasing some more fantastic unreleased music from Neill Moore's new live act NEO that is gaining more respect and excitement by the public by the day, as well as a set from Neill Moore himself and Nick Sentience as our monthly trustworthy and hard working residents and we are also super stoked to have Fin playing a two hour warm up set for us after reports from his set at PSYMERA it was a no brainier to get this dj down as talent is what we are looking for and the only way to keep things going properly. Catch you on the trance floor at the next party.
—–·٠•●ૐ●•٠· —–·٠•●ૐ●•٠· —–·٠•●ૐ●•٠· —–·٠•●ૐ●•٠· —-
Lineup:
M-theory (live)
https://soundcloud.com/psygemini
https://www.facebook.com/mtheoryuk/
NEO (Neill Moore live)
https://soundcloud.com/neill-moore-live
https://www.facebook.com/neillmoore.neolive/
Nick Sentience
https://soundcloud.com/nicksentience
https://www.facebook.com/nicksentience.productions/
Neill Moore
https://soundcloud.com/neill_moore
https://www.facebook.com/neillmoore.neolive/
Fin
https://soundcloud.com/fintbeast
https://www.facebook.com/Fin-391844417643129/
—–·٠•●ૐ●•٠· —–·٠•●ૐ●•٠· —–·٠•●ૐ●•٠· —–·٠•●ૐ●•٠· —-
Set times:
11:00 – 01:00 Fin
01:00 – 02:00 NEO (live)
02:00 – 04:00 M-theory (live)
04:00 – 05:30 Nick Sentience
05:30 – 07:00 Neill Moore
—–·٠•●ૐ●•٠· —–·٠•●ૐ●•٠· —–·٠•●ૐ●•٠· —–·٠•●ૐ●•٠· —-
MUSIC STYLE:
Progressive, Fullon & Psychedelic
TIME:
11pm till 7am
VENUE ADDRESS:
414 Coldharbour Lane, Brixton, SW9 8LF, London, UK
(1 minute walk from Brixton Tube/Rail)
PRICE:
£5 (Before Midnight)
£10 (After Midnight)
* Roof Terrace
* Psychedelic Decor
* mapping visuals
* Lights and Lazer Show
* Friendly Security
* Over 18 Only
(Open Roof terrace for those who wish to smoke)
Please note that excessive noise will be not tolerated outdoors
Please respect the neighbourhood, Thank you for your co-operation 🙂
London's No.1 Friday night Psy Trance Clubbing Night Out!
Club 414 –
414 Coldharbour Lane, Brixton, SW9, 8LF. London, UK
●•Safe And Friendly Environment•●
●•Full On Sound System Plus Amazing Lasers & Lights•●
●•The Venue Has A Roof Terrace For Smokers•●
●•Plus A Chill Out Area To Relax & Cafe!•●
●•See you on the dance floor•●
* Please invite only good vibe's.
* Bad vibes are not allowed.
* Select your best friend's for best time.
* Respect the neighbourhood when smoking.
* Dance like nobody is watching.
* Love, Peace n Light!
HOW TO GET THERE ::
Tube = Brixton (Victoria Line) 1 minute walk
Rail = Brixton (Mainline station) 2 minutes walk
Daytime buses : 2,3,35,37,45,59,109,118,133,159,196,250,322,333,345,355,415,432,P4,P5
Night buses = N2,N3,N35,37,N133,N159,250,689,690
Directions: Come out of Brixton tube station and turn left. Walk 100 yards till you see KFC on your left. Turn left and walk 100 yards. You have reached your destination on the left.
—–·٠•●ૐ●•٠· —–·٠•●ૐ●•٠· —–·٠•●ૐ●•٠· —–·٠•●ૐ●•٠· —-
---
Email
info@club414.org
---
Telephone / Text
02079249322
---
Facebook Event Link
---