Psyrhythmix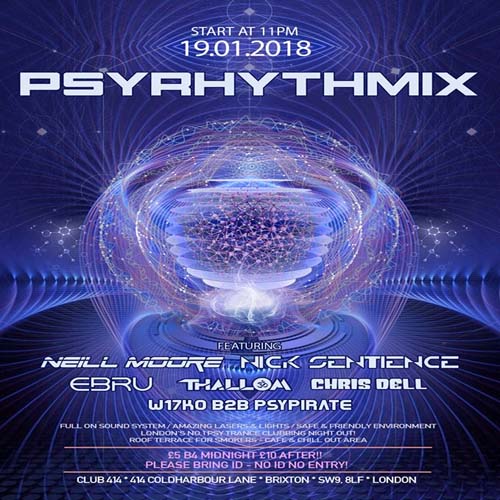 19 January, 2018 // 11:00 PM until 7:00 AM
Euro Trance, Psychedelic Trance
Cost – £5b412 £10 after.
Tickets
To purchase your tickets, head over and pay securely via stripe. Click here.
Neill Moore:
Nick Sentience:
Thallom:
Ebru
W17K0 b2b Psypirate
Chris Dell:
To start of the year we will be bringing you a fresh approach to the legendary Psyrhythmix. After a fantastic Xmas special edition we are very excited to have two new residents on board. One of the electronic music scenes heavy weight legends and ex-dj top 100, we bring you Nick Sentience. Alongside him London's favourite magic fingers dj wizard, engineer and music geek, Neill Moore. Alongside them we have some amazing guests who will be joining them to rock the dance floor like no where on earth. We present to you Ebru, who recently just smashed Ozora, one of the worlds biggest and best summer psytrance festivals and she played a stomper of a set. We will also be bringing you the mighty Thallom, who has been smashing dance floors across London and beyond for years and has a superb reputation. We are also excited to have W17K0 and Psypirate playing an exciting back to back and upcoming Club 414 resident psytrance enthusiast, Chris Dell to warm you up for a night to remember. Catch you on the trance floor!
Neill Moore:
https://soundcloud.com/neill_moore
https://www.facebook.com/Neill-Moore-111708706022/?ref=br_rs
Nick Sentience:
https://soundcloud.com/nicksentience
https://www.facebook.com/nicksentience.productions/?ref=br_rs
Thallom:
https://soundcloud.com/thallom
https://www.facebook.com/ThallOmUK/
Ebru:
https://soundcloud.com/dj_ebru_al
https://www.facebook.com/DJebruAl1/
W17K0 b2b Psypirate
https://soundcloud.com/w17k0
https://www.mixcloud.com/psypirate/
Chris Dell:
https://soundcloud.com/chrisdell1
~~~~~~~~~~~~~~~~~~~~~~~~~~~~~~
DATE:
Friday 19th January 2018
MUSIC STYLE:
Progressive, Fullon & Psychedelic
TIME:
11pm till 7am
VENUE ADDRESS:
414 Coldharbour Lane, Brixton, SW9 8LF, London, UK
(1 minute walk from Brixton Tube/Rail)
PRICE:
£5 (Before Midnight)
£10(After Midnight)
~~~~~~~~~~~~~~~~~~~~~~~~~~~~~~~
* Roof Terrace
* Psychedelic Decor
* Lights and Lazer Show
* Friendly Security
* Over 18 Only
(Open Roof terrace for those who wish to smoke)
Please note that excessive noise will be not tolerated outdoors
Please respect the neighbours, Thank you for your co-operation 🙂
London's No.1 Friday night Psy Trance Clubbing Night Out!
Club 414 –
414 Coldharbour Lane, Brixton, SW9, 8LF. London, UK
HOW TO GET THERE ::
Tube = Brixton (Victoria Line) 1 minute walk
Rail = Brixton (Mainline station) 2 minutes walk
Daytime buses : 2,3,35,37,45,59,109,118,133,159,196,250,322,333,345,355,415,432,P4,P5
Night buses = N2,N3,N35,37,N133,N159,250,689,690
Directions: Come out of Brixton tube station and turn left. Walk 100 yards till you see KFC on your left. Turn left and walk 100 yards. You have reached your destination on the left.
---
Email
info@club414.org
---
Telephone / Text
02079249322
---
Facebook Event Link
---