Steve Smitten Benefit Party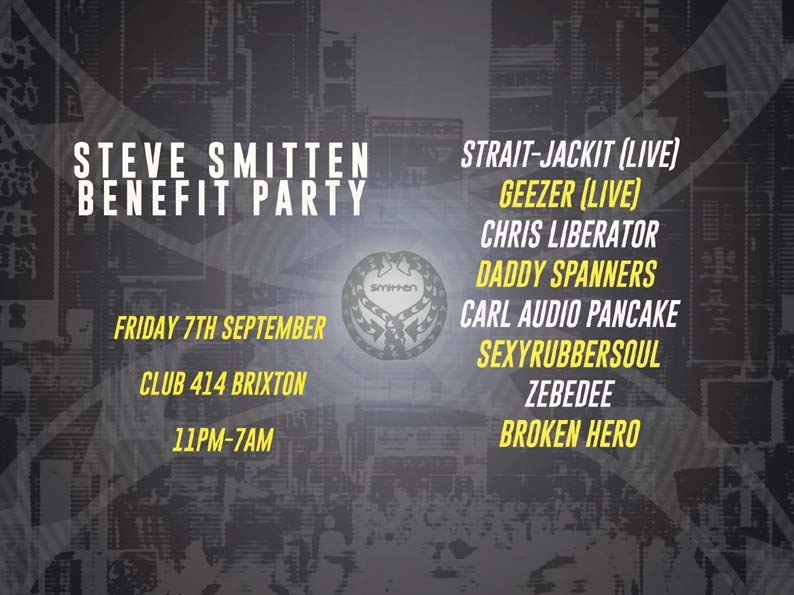 7 September, 2018 // 11:00 PM until 7:00 AM
Acid Techno, Techno
Cost – £5b412 £10 after.
Tickets
To purchase your tickets, head over and pay securely via stripe. Click here.
STRAIT-JACKIT (LIVE)
GEEZER (LIVE)
CHRIS LIBERATOR
DADDY SPANNERS
CARL AUDIO PANCAKE
SEXYRUBBERSOUL
ZEBEDEE
BROKEN HERO
ACID TECHNO RAVERS WE NEED YOUR HELP!
*STEVE SMITTEN BENEFIT PARTY*
FRIDAY 7TH SEPTEMBER
CLUB 414 BRIXTON
11PM-7AM
Many of you know the classic 303 & 909 fuelled label 'Smitten', which housed seminal releases from artists such as D.A.V.E. The Drummer, Chris Liberator, Geezer, DDR, Immersion, Punk Floyd and many more from the mid 90's onwards. Regrettably label boss Steve Smitten is now incredibly unwell with advance stage chronic Lyme Disease. As the NHS does not recognise this condition, Steve is seeking to regain his health through private treatment. Unfortunately this is extremely expensive so we have decided to recruit the help of some of London's underground heroes to throw a party, contributing any profits we make to Mr Smitten's healthcare kickstarter fund. Our favourite club in Brixton – the 414, has also very kindly agreed to host this event. We require your attendance to celebrate the sound of an iconic acid techno label, and in turn help our friend Steve's Gofundme campaign.
We present a very special line-up paying homage to Smitten and beyond…
STRAIT-JACKIT (LIVE)
Featuring on some of the earliest Smitten releases from 1996, Arron Courts of S-Cat Audio Technologies helped to define part of the label's prototype sounds in his productions. He'll be appearing with his partner Abi, busting out some live analogue grooves.
GEEZER (LIVE)
Guy Mcaffer will be bringing the Raw heat with some twisted acid & techno, in his own inimitable style.
CHRIS LIBERATOR
Chris will be dropping a special Smitten classics set, for those looking to relive the mid to late 90's and early 2000's glory days.
DADDY SPANNERS
Aaron Liberator will be playing a rare reggae techno set for us, referencing the Highwire label that first nurtured dub infused London techno beats.
CARL AUDIO PANCAKE
In another super rare showing, we're very lucky to have Carl joining us for a unique Audio Pancake immersed acid techno set which he is putting together specially for the night!
SEXYRUBBERSOUL
This underground legend will be bringing some old school acid tinged vibes to the party, in another rare performance differing from her usual sound.
ZEBEDEE
Everyone's favourite warehouse rocker will be playing a Smitten inspired set, featuring early releases and other great music from the era.
BROKEN HERO
For the first time Sterling Moss will be playing as one half of an act from his 2005 record label Bodyshock, showcasing a more techno influenced sound.
This is a night not to be missed, and it's for an incredibly good cause. So please join us to celebrate the sound of Smitten, while helping to raise healthcare funds for the man behind the sound: Steve Smitten.
Club 414, Coldharbour Lane, Brixton SW9 8LL
£10 all night
Please Bring Photo ID / NO ID NO ENTRY
HOW TO GET THERE ::
Tube = Brixton (Victoria Line) 1 minute walk
Rail = Brixton (Mainline station) 2 minutes walk
Daytime buses: 2,3,35,37,45,59,109,118,133,159,196,250,322,333,345,355,415,432,P4,P5
Night buses = N2,N3,N35,37,N133,N159,250,689,690
Directions:
Come out of Brixton tube station and turn left. Walk 100 yards till you see KFC on your left. Turn left and walk 100 yards. You have reached your destination on the left
Gofundme page: www.gofundme.com/smitten-recharge
---
Email
info@club414.org
---
Telephone / Text
02079249322
---
Facebook Event Link
---