THE BRIXTON LATE NIGHT JAM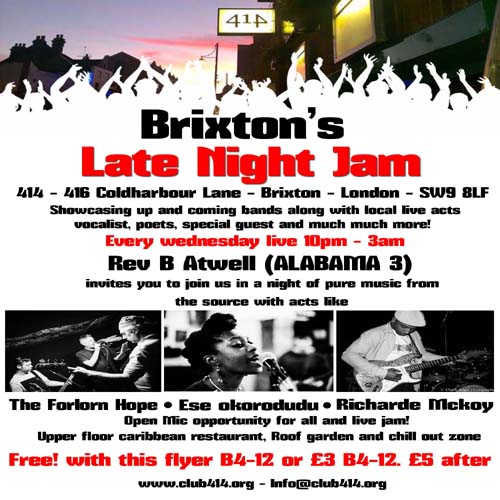 12 September, 2018 // 10:00 PM until 3:00 AM
Funk, Jazz, R n' B, Reggae, Soul, Other
Cost – FREE with flyer b412 £3b412 £5 after.
Tickets
To purchase your tickets, head over and pay securely via stripe. Click here.
MC – Rev Be Atwell
Bands
The Forlorn Hope
Ese Okorodudu
Richarde McKoy
Fresh start at the 414 every Wednesday night from 10pm till 3am.
Doing what was our true intention from day one giving young and upcoming artist musicians the opportunity to play in front of a live audience in order to gain that vital experience needed before moving on to bigger and better things.
Artist and MC (Master of Ceremony) Rev.Be.Atwell will take care of the night's proceedings accompanied by the outstanding Grass Roots Band.
ROOM 1
Artist-MC: Rev Be Atwell
Live on stage
The Forlorn Hope
Ese Okorodudu
Richarde McKoy
Ent £3 b412 £5 after.
PLEASE BRING PHOTO ID / NO ID NO ENTRY
ROOM 2 (Chill Out Lounge/cafe)
A beautiful place to sit down and chill, chat with your friends or eat some food.
FOOD: Curry Goat & White Rice, Chicken & White Rice, Calaloo, Potato salad, Coleslaw, Salad, Prawns & more,
ROOF TERRACE: Open Roof terrace for those who wish to smoke.
Club 414
414 Coldharbour Lane,
Brixton,
London,
SW9 8LF
www.club414.org
info@club414.org
HOW TO GET THERE =
Tube = Brixton
(Victoria Line – 24 hours)
Rail = Brixton Mainline station
Daytime buses = 2, 3, 35, 37, 45, 59, 109, 118, 133, 159, 196, 250, 322, 333, 345, 355, 415, 432,
P4, P5
Directions: Come out of Brixton tube station and turn left. Walk 100 yards till you see KFC on your left. Turn left and walk 100 yards. You have reached your destination on the left.
---
Email
info@club414.org
---
Telephone / Text
02079249322
---
Facebook Event Link
---