The Club 414 Road Show Presents: (3 The Psy Way)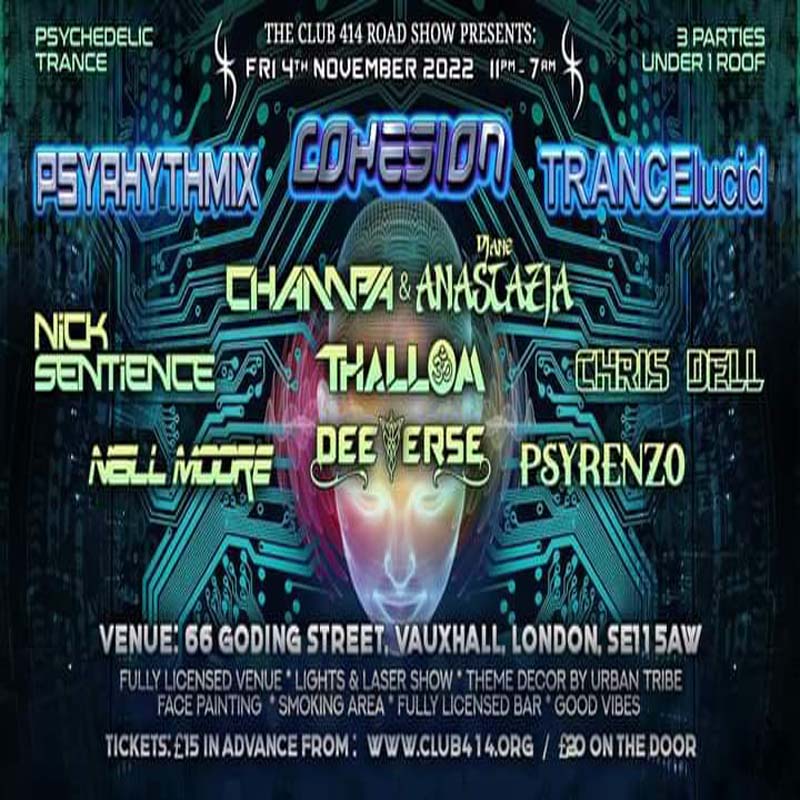 4 November, 2022 // 11:00 PM until 7:00 AM
Psychedelic Trance
Cost – Tickets £15 / £20 on door.
Tickets
To purchase your tickets, head over and pay securely via stripe. Click here.
Champa Live!
Thallom
Anastajza
Neill Moore
Melodic Noise
Psyrenzo
Chris Dell
Deeverse
The Club 414 Road Show Presents: (3 The Psy Way)
We're back in the capital! Friday 4th of November.
Club 414 Road show together with Cohesion , Psyrhythmix & TranceLucid is delighted to bring to you a special combined party to bring everyone together for magical experience. Invite your best friends for a night to remember.
(Music Rules)
Fullon / Progressive / Psychedelic
Artists Representing (Cohesion)
Champa Live!
(Enterrec Rec) – UK
https://soundcloud.com/champalive
Thallom
(Expo Rec) – BR
https://soundcloud.com/thallom
Anastajza
(Enterrec Rec) – PL
https://soundcloud.com/djaneanastazja
Artists Representing (Psyrhythmix)
Neill Moore
https://soundcloud.com/neill_moore
https://www.facebook.com/neillmoore.neolive
Melodic Noise
Simbiotyk records
https://m.soundcloud.com/melodic-noise
Artists Representing (TRANCElucid)
Psyrenzo
https://soundcloud.com/psyrenzo
https://www.facebook.com/psyrenzo.official/
Chris Dell
https://soundcloud.com/chrisdell1
https://www.facebook.com/chrisdell.dj
Deeverse
( Apuruami Rec ) – UK
https://apuruami-records.com/artists/deeverse/
Tickets Price
£15 In Advance / £20 Onwards
Website for advanced ticket:
https://club414.org
Please Note!
The ticket you perches are known as a Eticket.
You will not receive a physical ticket.
When you arrive at the venue a corresponding note will be waiting with an identical serial number of the Eticket you have perched.
Please print out the receipt or have it on your mobile phone too present as proof of payment when you arrive at the door.
Thankyou.
Party location venue address :
Venue : 66 Goding Street
Vauxhall / London
SE11 5AW.
---
Email
info@club414.org
---
Telephone / Text
07805955704
---
Facebook Event Link
---