The Club 414 Road Show Presents COHESION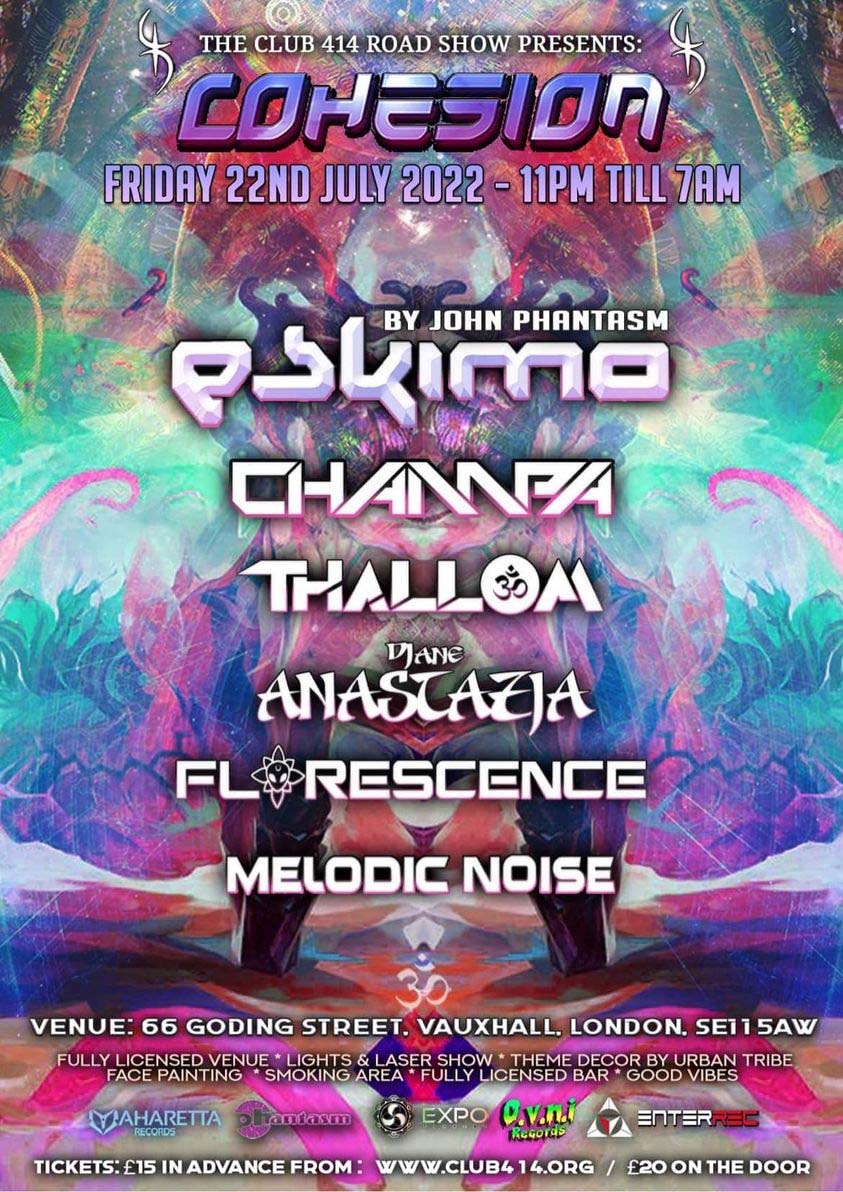 22 July, 2022 // 11:00 PM until 7:00 AM
Psychedelic Trance
Cost – Tickets £15 / £20 on door.
Tickets
To purchase your tickets, head over and pay securely via stripe. Click here.
ESKIMO
Set By: John Phantasm
CHAMPA
ANASTAZJA
THALLOM
FLORESCENCE
MELODIC NOISE
Welcome to a cohesion Adventure !!!
We're delighted to present this MEGA Line up to blow your mind away…
It's a massive pleasure to have at cohesion The legendary ESKIMO by John Phantasm,
Last time we had this project at Illusiom And now is time to sparkle cohesion!
Phantasm records label boss will be heading to London Town for Cohesion.
We're extremely happy for the return of
Champa Live & Djane Anastazja behind the decks at Cohesion Adventure 22nd July.
Plus the full support from our talented in-house artists Thallom , Florescence & Melodic Noise to make the night even more special to be reminded for a long time.
Invite all your good vibes friends for this celebration of life and let's keep it psychedelic.
One Love , Thallom.
( Music Rules )
Fullon / Progressive / Psychedelic
We will not tolerate any type of dark music,
Cohesion is a fluffy night , extremely well known to be one of London's long
running fullon psychedelic trance party.
If you wish to perform at cohesion
please stick with the music policy.
Playground:
Eskimo By John Phantasm
https://soundcloud.com/john-phantasm
Champa Live!
( Enterrec Rec ) – UK
https://soundcloud.com/champalive
Thallom
( Expo Rec ) – BR
https://soundcloud.com/thallom
Anastajza
( Enterrec Rec ) – PL
https://soundcloud.com/djaneanastazja
Florescence
( Maharetta Rec ) – UK
https://soundcloud.com/florescence_official
Melodic Noise
( Enterrec Rec ) – BR
https://soundcloud.com/melodic-noise
——————————————————————
Tickets Price
Advance Tickets: £15
https://www.club414.org
Door price: £20
Photo ID please.
To all ticket holders.
Please print out your PayPal receipt and present at the door on arrival, a corresponding copy with identical serial number will be waiting for validation as proof of payment. Thank you.
——————————————————————-
Party location venue address :
Venue : 66 Goding Street
Vauxhall / London
SE11 5AW
---
Email
info@club414.org
---
Telephone / Text
07805955704
---
Facebook Event Link
---