The Club 414 Road Show Presents TRANCElucid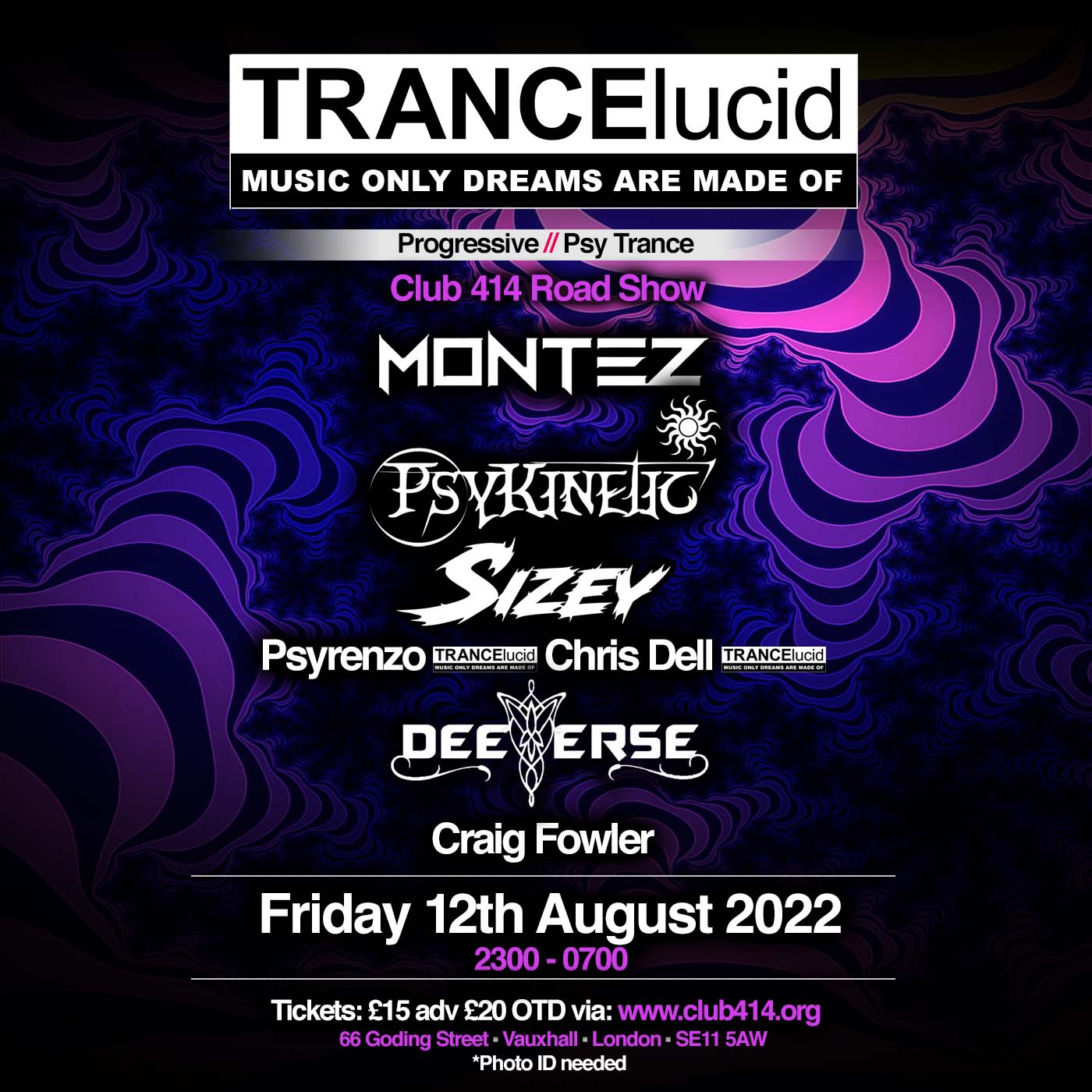 12 August, 2022 // 11:00 PM until 7:00 AM
Psychedelic Trance, Trance
Cost – Tickets £15 / £20 on door.
Tickets
To purchase your tickets, head over and pay securely via stripe. Click here.
Montez
Psykinetic
Sizey
Psyrenzo
Chris Dell
Deeverse
Craig Fowler
Hello everyone,
We are mega excited to be announcing our next event!
For this event we have some of our favourite DJ's returning back to rock the dance floor once again, along with a couple of new ones making their TRANCElucid Debut and who have been very much talked about.
Not forgetting our lovely resident DJ's Psyrenzo and Chris Dell.
Stay tuned for more info, on the weeks ahead, as we shall be introducing you to all our fantastic DJ's that shall be gracing the decks.
We hope you can all join us on Friday 12th August 2022 for another adventure together on the dance floor. We can't wait to see you all.
Great Party Vibes Guaranteed
Artists & DJ's on the night :
Montez
www.soundcloud.com/ckmontez
www.facebook.com/Montezlive
Psykinetic
www.facebook.com/Neilpsykinetic
www.soundcloud.com/dj-psykinetic
Sizey
https://soundcloud.com/s-z-y
https://www.facebook.com/SIZEY1983
https://www.facebook.com/psyfunktion
https://www.mixcloud.com/leighshellard/
Psyrenzo (TRANCElucid)
https://soundcloud.com/psyrenzo
https://www.facebook.com/psyrenzo.official/
https://www.facebook.com/TRANCElucid-1564805487104512/
Chris Dell (TRANCElucid)
https://soundcloud.com/chrisdell1
Deeverse
https://m.facebook.com/DeeVerse
https://soundcloud.app.goo.gl/G4LbUgXK4wPE16pz7
Craig Fowler
https://www.facebook.com/djcraigfowler
https://www.mixcloud.com/craig-fowler/
~~~~~~~~~~~~~~~~~~~~~~~~
Event Info:
TRANCElucid
Club 414 Road Show
Friday 12th August 2022
23:00 – 07:00
£15 advance tickets from www.club414.org/
Price on door : £20
To all ticket holders.
Please print out your PayPal receipt and present at the door on arrival, a corresponding copy with identical serial number will be waiting for validation as proof of payment.
Thank you.
——————————————————————-
Progressive / Psy Trance
PLEASE BRING PHOTO ID / NO ID NO ENTRY.
Event address :
66 Goding Street
Vauxhall
London
SE11 5AW
---
Email
info@club414.org
---
Telephone / Text
07805955704
---
Facebook Event Link
---