ThisGoTec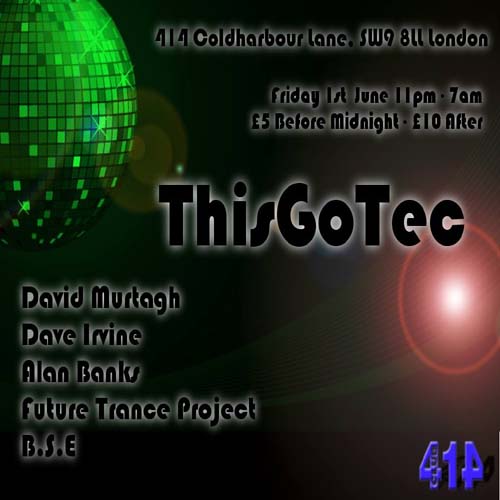 1 June, 2018 // 11:00 PM until 7:00 AM
Trance, Techno
Cost – £5b412 £10 after.
Tickets
To purchase your tickets, head over and pay securely via stripe. Click here.
David Murtagh
Dave Irvine
Alan Banks
Future Trance Project
B.S.E
Prog, Techno, Trance
David Murtagh
Dave Irvine
Alan Banks
Future Trance Project
B.S.E
£5 before midnight, £10 after.
B.S.E – https://soundcloud.com/dj_bse
Opening the evening we have B.S.E, who's no stranger to 414. He's one of London's favourite Underground heroes, and co-founder of Zoology. He now resides at Alumni, Brixton Trance Underworld, and new event Sonance, held at Cell 200, in Egg.
B.S.E has the versatility to put together exciting sets of Deep House and Trance but is famed for his love of Techno and latterly Tech House.
Dave Irvine – https://soundcloud.com/davidairvine
Following on from this we have Dave Irvine who's featured at London nights including Peach, The Gallery, Trance Sanctuary and Prehab.
Alan Banks – https://soundcloud.com/AlanBanks
Named by Billboard as one of the future trance stars, The EDM radio show host, Alan Banks combines not only trance but a wide variety of dance music genres spanning driving house, progressive and techno. He's played across the country and capital being handpicked to play for Paul van Dyk's 10th Birthday celebration for Vandit records, Judge Jules' Judgement Sundays parties, Above & Beyond's highly-regarded Anjunabeats nights, and numerous other events including The Gallery, Party Proactive, Electronic Sessions, Trance Sanctuary, Planet Angel, Lost Dawn, Futurity and many more. He's also seen remixes out on Vandit and Pure Trance that have had wide ranging support.
David Murtagh – https://www.mixcloud.com/prehabdj/
David has graced the decks of some of London's best known trance nights such at The Gallery and Trance Sanctuary, and his tracks on Rapid Response, Vaccine, Neuroscience, and Prehab Recordings have seen massive support from the likes of PvD, John O'callaghan, Solarstone, Markus Schulz and Judge Jules.
Future Trance Project – https://www.mixcloud.com/discover/future-trance-project/
Closing out the night we have Glen Gavin, AKA future Trance Project
HOW TO GET THERE
Tube = Brixton
(Victoria Line – 24 hours)
Rail = Brixton Mainline station
Daytime buses = 2, 3, 35, 37, 45, 59, 109, 118, 133, 159, 196, 250, 322, 333, 345, 355, 415, 432, P4, P5
Night buses = N2, N3, N35, 37, N133, N159, 250, 345, 689, 690
Directions: Come out of Brixton tube station and turn left. Walk 100 yards till you see KFC on your left. Turn left and walk 100 yards. You have reached your destination on the left.
---
Email
info@club414.org
---
Telephone / Text
02079249322
---
Facebook Event Link
---