Tiny's Techno Tribute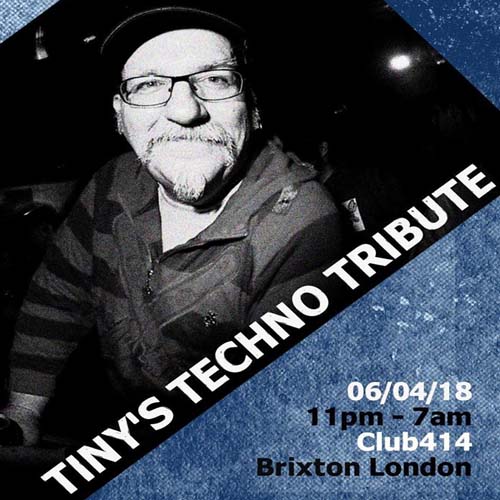 6 April, 2018 // 11:00 PM until 7:00 AM
Acid Techno, Techno
Cost – £5b412 £10 after.
Tickets
To purchase your tickets, head over and pay securely via stripe. Click here.
AARON LIBERATOR B2B STERLING MOSS
D.A.V.E. THE DRUMMER B2B THERMOBEE
GIZELLE REBEL YELLE B2B ZEBEDEE
SYBER SYMON B2B DARC MARC
ACID STEVE
MISS MONUMENT
TIM SAMSARA
TINY'S TECHNO TRIBUTE
After speaking with our dear friend Tiny's family, we have their blessing to run a benefit party in his memory after his untimely passing
The finest line-up from London's underground to be announced
All proceeds donated to Tiny's family
For those who can't make it but would like to donate, please private message me for details of how to transfer funds
SAVE THE DATE
PLEASE SHARE FAR AND WIDE!
---
Email
info@club414.org
---
Telephone / Text
02079249322
---
Facebook Event Link
---