TRANCElucid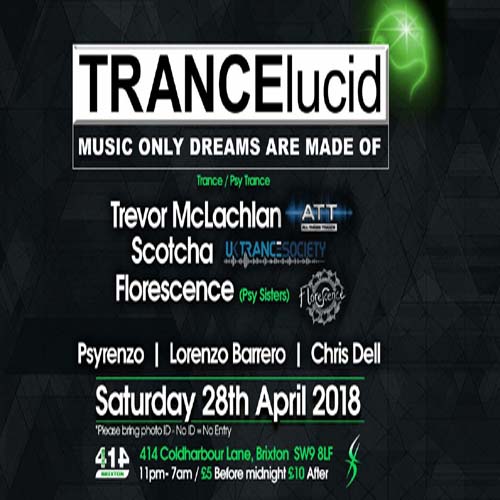 28 April, 2018 // 11:00 PM until 7:00 AM
Psychedelic Trance, Trance
Cost – £5b412 £10 after.
Tickets
To purchase your tickets, head over and pay securely via stripe. Click here.
Trevor McLachlan
Scotcha
Florescence
Lorenzo Barrero
Psyrenzo
Chris Dell
Hello party people and welcome to the April edition of TRANCElucid. Following on from our last event and our huge 3rd Birthday celebrations last weekend, which was a great event from start to finish we can't wait to be back for this one.
We have a massive event lined up for you at this one and to progress on from our Birthday, as we welcome back two solid DJ's and who deserve a recall to play for us. First up and to headline for us we have TREVOR MCLACHLAN, whose the Promoter of the huge ATT (All Things Trance) brand. There is also a recall for the ever impressive CHRIS DELL, who returns to play a set of pumping Psychedelic beats that will most certainly get you stomping.
We give debut sets to two new DJ's. First up we have FLORESCENCE, whose a new female Psy Trance DJ in the industry and is associated with the Psy Sisters group in Psychedelic scene.
We also give a debut set to another promising DJ in the industry and SCOTCHA, whose Co-Leader of the UK Trance Society team.
Lastly and joining them shall be our very own Resident & Promoter LORENZO BARRERO, who not only shall he be playing a long overdue Trance set (he hasn't done one at our events since October 2017), but also a Psy Trance set under his Psy guise PSYRENZO
More info about the DJ's (listed below) to play on this line up to come over the coming weeks.
Please share and invite your music loving friends and who would be interested to come to this party, a party that will be a memorable one and one to remember.
See you on the dance floor.
LINE UP:
TREVOR MCLACHLAN (ATT)
https://m.soundcloud.com/trevor_mclachlan
https://www.facebook.com/ATT-All-Things-Trance-193761394504432/
SCOTCHA (UKTS)
https://www.facebook.com/UKTranceSociety/
FLORESCENCE (PSY SISTER'S)
https://soundcloud.com/florescence-official
https://www.facebook.com/florescence.official/
https://www.facebook.com/PsySisters/
LORENZO BARRERO
https://www.facebook.com/TRANCElucid-1564805487104512/
https://www.mixcloud.com/lorenzobarrero/followers/
PSYRENZO
https://soundcloud.com/lorenzo-barrero
https://www.facebook.com/Psyrenzo-1397547696965919/
CHRIS DELL
https://www.mixcloud.com/Chris_Dell/
EVENT INFO:
TRANCElucid
Saturday 28th April 2018
23:00 – 07:00
£5 before midnight / £10 after.
Trance / Psy Trance
PLEASE BRING PHOTO ID / NO ID NO ENTRY
Open Roof terrace for those who wish to smoke.
Club 414,
414 Coldharbour Lane,
Brixton,
London,
SW9 8LF
www.club414.org
HOW TO GET THERE =
Tube = Brixton
(Victoria Line – 24 hours)
Rail = Brixton Mainline station
Daytime buses = 2, 3, 35, 37, 45, 59, 109, 118, 133, 159, 196, 250, 322, 333, 345, 355, 415, 432, P4, P5
Night buses = N2, N3, N35, 37, N133, N159, 250, 345, 689, 690
Directions: Come out of Brixton tube station and turn left. Walk 100 yards till you see KFC on your left. Turn left and walk 100 yards. You have reached your destination on the left.
---
Email
info@club414.org
---
Telephone / Text
02079249322
---
Facebook Event Link
---