Wicked Wednesday Jam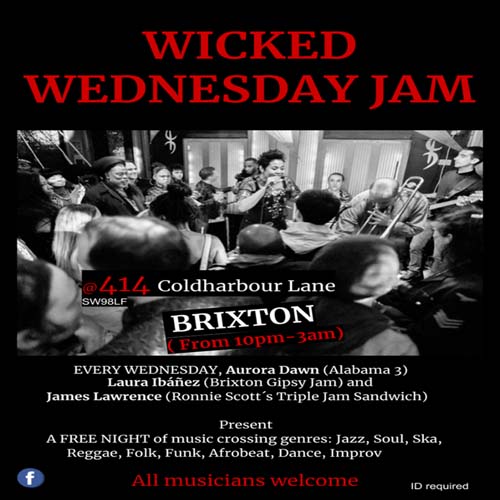 4 April, 2018 // 10:00 PM until 3:00 AM
Funk, Hip Hop, Jazz, R n' B, Reggae, Soul, Other, Rock
Cost – FREE! (Donations welcome)
ADVANCED TICKETS SOLD OUT!
Aurora Dawn – Alabama 3
Jame Lawrence – Triple Jam sandwich Band.
.
.
.
Every week, Aurora Dawn (Alabama 3), Laura Ibáñez (Brixton Gypsy Jam) and James Lawrence (Ronnie Scott´s Triple Jam Sandwich) rock the legendary Club 414!
It´s just a wicked night, with a powerful crowd and so many talented musicians creating something unique and bringing life back to Brixton!!
Calling all musicians, Singers, MC's, local musical community, global family and beyoooond!….
We welcome you to come, share and show your love for live music on the south side of the river.
Jam your night out with the wickedest musicians from all over London playing a mixture of genres.
Jazz – Soul – Ska – Reggae – – Funk – Blues – Rock – Afrobeat – – Dance – Improv
Bringing our global jamming family of music lovers to the very heart of Brixton .Enjoy the great vibe, music, atmosphere and people ♥
And…HOT FOOD all night!
FREE ENTRY
COME TO CHECK IT OUT!! x
ONE LOVE
Check our Links below and REMEMBER to also go to our W.W.J FACEBOOK PAGE
LIKE – SHARE – See you there! https://www.facebook.com/Wicked-Wednesday-JAM-326872507823929/
Jame Lawrence – Triple Jam sandwich
https://www.facebook.com/Triple-Jam-Sandwich-392430097634246/?ref=br_rs
Laura – Brixton Gypsy Jam
https://www.facebook.com/events/1900270450206292/
Aurora Dawn – Best in Brixton festival / Alabama 3
https://www.youtube.com/watch?v=_RgFhE-Wyqc&t=111s
---
Email
info@club414.org
---
Telephone / Text
02079249322
---
Facebook Event Link
---